Vaer Watch Review
The Straps

Vaer has a variety of strap options to match the watch's versatility and fun style. These include Horween or unlined leather, Tropic-Style rubber, or stainless-steel Oyster-style bracelets. Each strap option comes with quick-release spring bars that allow for simple swapping without the use of any spring-bar tools. Although quick release spring bars are more finicky than traditional spring bars, they feel sturdy and reliable.
The Horween leather bracelet is the best of the three. It has a soft and supple feel and a nice finish. Although the rubber strap works well, the bracelet is not as good. They have some edge to the links and are quite sharp at the ends. Despite all this, Vaer has begun to make improvements and modifications for future releases. For those of us who have the older style bracelets, not to worry – Vaer has a wonderful policy of offering 50% discounts to folks who want to upgrade to the newer strap or bracelets, which is nice.
[Related: The Best Leathers for Watch Straps]
Quality Craftsmanship, Effortless Style

VAER's most popular collection is the A5 Automatic, and it's easy to understand why. These watches combine the best in-class durability and timeless design with full USA Assembly. They are rugged yet refined, and represent the watchmaker's future vision. Available in an array of different colourways to match your style and costing just $449, these automatic watches represent exceptional value for money.
Unlike most ocean-rated watches, these USA Assembled automatic watches are also extremely slim and comfortable on the wrist, and boast a 40mm diameter and a sub-10mm thickness, which is rare on watches with a locking crown function. Two interchangeable straps are standard on the A5 Automatic by VAER. There are two options for straps: one that is ocean-ready and another that can be used to do water-based activities. The VAER premium Horween leather straps are made in Chicago from native steer hides and are handmade in America.
Vaer D7 Atlantic Hands On Watch Review

Many people these days are active on Instagram, Facebook, and YouTube. If you are a journalist, a photographer or a tuber, these platforms can be an excellent place to be. It was through this platform that I discovered Vaer's Vaer D7 Atlantic diving series. Sponsored ads, as well as many others, seem like a significant investment by these companies. This might be your first exposure to Vaer ads, or their primary purpose. American Assembled would make these field watches very reasonable. It's so affordable! The watches are priced at just $199 with quartz movements and sapphire stones. The watches look great, and they are affordable, based on my experience. Vaer was established in 2017 by two avid watch-lovers and their first field watch line has proven to be a huge success. I was attracted to their ads for 2017 dive watches. High quality, affordable, and made in America was what I expected from a dive watch. Fair enough, they did make that watch. This model is the D7. The D7 is one of several Swiss Made models. The D7 is Swiss Made stamped and features an ETA2824 motor. So what are other differences between these two models? They don't have any. I don't think so. This retro-inspired dive watch is up for review today.
Receiving 350+ Responses To A Marketing Email

Normally we send out the traditional, image-based marketing emails all the time. Product updates, promotions, these types of things. But two weeks ago, we sent out a 1400-word essay, all plain text. To our list of around 50,000 people.
In our modern culture of Twitter and TikToks where things are supposed to be short and quick, it was kind of a hilarious decision to make — to send something like this with no images, and barely any links. It also shows our appreciation for our community.
This amazing validation was provided by the fact that 360 people responded to our email. The responses can be as lengthy as the life stories that people share in emails. I think it takes a special community and a special brand to build that.
I would rather have a 1000 ultra-loyal people that are like, ride or die, than 10,000 people or even 50,000 people that are like "bought it once, couldn't care less about it".
Because those 1000 people will be your evangelists. You will have them as your evangelists. If you are in trouble, they will support you and preorder your products. That's our mindset.
To keep in touch with the latest news and developments regarding social commerce, communities, DTC, and other DTC topics subscribe to Selling Social
The Watch

39mm Stainless steel Case
Ceramic Dive Bezel insert with Luminous Markers
Double-domed Sapphire Crystal with Anti-Reflective Coating
Sapphire Crystal Exhibition Caseback
ETA 2824 Automatic Movement with Hacking Seconds
200m Water Resistance
Super-LumiNova Elements with Faux Patina coloration
Horween Leather Strap, Tropic-style Rubber Strap, or Stainless Steel Bracelet
The watch in question here is the D7 Arctic Swiss Diver. As with all of the automatic Vaer divers, the watch features a very comfortable 39mm stainless steel 'twisted lug' case and is nicely proportioned overall. Fans of vintage watches, or more specifically Omega, will recognize the case profile as it has been a mainstay of both their Speedmaster and Seamaster collections for decades. The twisted lug cases predate the Seamaster, and were used in the Universal Geneve Polerouter at the beginning of the 1950s. These cases were manufactured by the Swiss casemaker Huguenin Freres and have since become one of the most iconic case designs in watchmaking.
One of the most fundamental features of any dive watch is the timing bezel. In fact, one could make an argument that the bezel is the definitive feature that makes a dive watch a dive watch. The timing bezel is used to determine how long someone was underwater for during a dive. They rotate only in one direction to prevent any miscalculations. The bends are not what anyone wants! A classic unidirectional dial with beautiful ceramic insert is the D7. The layout of the numerals and markers are reminiscent of the Rolex Submariner, though under close inspection subtle differences in shape and character begin to reveal themselves; this bezel is not a carbon copy of the Sub's bezel. It is also worth noting that this ceramic bezel can be purchased by Vaer for less than $1,000.
The dial is a clean matte black with luminous markers, vintage inspired sword hands and a painted white seconds hands. It is easy to read and is well proportioned considering the dimensions of the dial. The indices are one of the only major design elements on the watch that are not clearly influenced by other vintage designs. These indices are stunning, with a combination of a slightly flared doortop shape and round markers at 10, 2, 4 and 8 o'clock. These round markers bring a strong symmetry to what might have otherwise been another boring time-only sport watch. You don't have to be extravagant to create original watches, young watch designers!
Vaer takes pride in their luminescent plots. They put much effort and time into making them as bright as possible. The D7 Arctic is available with either white Super-LumiNova or tan Super-LumiNova. As with the Hamilton Khaki Field watch we previously reviewed, this tan color is made to look like aged radium or tritium and is often referred to as 'Fauxtina' (faux patina) in the watch world. This aesthetic decision can sometimes be too obvious or silly, but here it is well executed and provides a nice contrast to the ceramic bezel and matte dial.
Both movements are excellent and well worth the price. They are also used in many watches throughout the industry.
[Related: Why Hamilton Makes the World's Best Field Watch]
Shopping Options

The D5 American Assembled comes with a Miyota 9000 series motor for $499, and the D7 Swiss Made is available for $799 (879 on steel). There is a discount code generator on their website only that offers 15% off.
The Swiss Made D7 movement is almost identical to the cheaper Swiss Made D5 and it seems like a little bit more value than its less expensive sibling. It is more affordable and aligned to the American brand's goal of American manufacturing, while D5 is less expensive. I made a wise decision to risk on Vaer's first dive watch attempt. Opting for the rubber strap and steel bracelet, I put in my order and immediately began second-guessing my choices. By the time the watch arrived, I had decided to return it. This felt like an addition that was a regression to my collection of homages. Nevertheless, I opened the box to take a peek.
An Underutilised Platform In The Beginning

In 2019, we had like, three Instagram posts — which was a strange reflection of our business, or our mindset as an e-commerce brand and a digitally native company. We were still finding success, but not necessarily talking to the entire world.
We are a small business, so our resources may not be unlimited. There isn't a social media manager or agency for us.
But that being said, Facebook and Instagram ads were more our main marketing focus. We were also hand-holding a lot of those relationships live, responding to individual customers, trying to make that $500 sale.
From the very beginning, we were clear that it didn't matter if there are 100,000 people following us. Because it is more about depth of experience, we'd prefer to have 500 direct emails conversations with customers.
Other options

This piece may not be for you, or vintage Omega is out of your budget, but I have you covered. Interestingly, I've found no alternatives at any price-point that combine the best-loved features of Omega, Rolex, and Seiko. Because of this, my focus is on the 166.024 "Big Triangle", alternatives to the D5 Pacific.
1980 CWC Royal Navy Diver – If you are looking for authentic heritage, the reissued Royal Navy diver watch was replaced by the Rolex Mil-Sub back in 1980.
NTH Odin: If you don't care about twisted lugs and want a more faithful "Big Triangle" dial, handset and bezel with modern touches. These are not available for purchase on the second-hand market.
At The Wrist

I had only seen Vaer watches briefly at Wind Up, a few years back. This was my first time with them. They were too small for me to fit. Once I sized the bracelet, I was pleasantly surprised with how the D4 felt on the wrist. The D4 sank to the wrist, bringing the overall case height of 12.7mm (including crystal) down to 10mm.
My habit is to look at my watches from the side, so I can see the way the lugs bend down and hug my wrist. The D4 not only looks like it was custom-made for my wrist, but it also has a beautiful side profile. Vaer made a wonderful case design.
Everything about the D4 feels solid, tactile, and satisfying from an on-wrist perspective. The bracelet features a 20mm to 18mm taper, the bezel action is tight, and the crown is large and easy to use (not that you'll be using it a ton). These are not easy things to do, but it is essential for watches to feel comfortable on your wrist. With Vaer bridging the gap between a microbrand and a larger traditional brand, you can see and feel where their ability in crafting a solid watch has been refined.
You can grab and go with the D4. It features a solar quartz movement so unless you tuck it away in a drawer for 6 months, it will always be ticking when you want to wear it. Vaer has also removed the date from D4 so you don't have to be concerned about it. Although the movement has a date wheel, it does not have a ghost position. However, this isn't a problem for me as it's quartz so I don't need it to tell me when it's time.
Case

I measured the case to be 40 mm in diameter, 45 mm from lug-to-lug and a height of 13.3 mm that more realistically feels like 11.5mm since about 2 mm is the curvature of the crystal. It is completely brushed and draws heavily on Omega's twist lug case design. The quality of brushing is good, and the dimensions come across as being more comfortable than most Omega watches on my wrist because of the flat case-back.
The twisted lug design is what I love about the Speedmaster, as well as the Seamaster 300. It is well executed here, and I like the rounded edges between all surfaces.
The bezel flares outwards from the case and has an excellent grip that follows the Rolex Submariner quite closely. It is easy to grip and operate, and the action is terrific. The insert is simple, with lumed markers and painted numerals. Everything lines up nicely and the bezel is easy to read.
A domed sapphire crystal with AR coating looks amazing and is beautiful. But the curvature of the crystal makes it pick up reflections pretty easily even with the AR coating. The curved look of the crystal is beautiful, however, I am not impressed by the reflections. Maybe more layers would help.
Youtube And Long-Form Content

This is perhaps one of the reasons why we weren't as focused on Instagram, since we felt that our product and brand is better fit for a deeper discussion which YouTube was a good match for.
Our videos can be very detailed. It's usually about a 30-minute discussion when we review a product. It's rare that a large number of companies can choose a product to review and then make videos that are so long. This can get quite exhausting. We have many customers who want to see a 30-minute review.
We've even taken some of our 30 minute videos and run them as ads. You have to have patience, or be really interested in watches for those. It has worked quite well which is fine.
Making Community through Hard Business Decisions

In 2018, we had more or less figured out a model [to scale our business]. But from a marketing and branding standpoint, we decided to bring the entire assembly operation of the company into Los Angeles in the US.
This was a logistical nightmare, and to be honest a real challenge. We believed that it would give us a platform to build and market a brand. We have grown tremendously in the years since.
I don't know if we necessarily understood the choice we were making in terms of the community we were building when shifting assembly into the United States.
Tech Specs From Vaer

View Model: D4 Arctic
Dimensions of the Case: 38mm
Dimensions of the bezel: 39mm
Dial Color: Black
H+M Hand Color: Brushed steel
S Hand Color: White
Case Material: 316L Steel
Case Back: Deep Etched Steel
Sapphire Crystal: Double Domed
Bezel: Anodized Aluminum
The thickness of the case is 10.6mm
Thickness w/ Crystal: 12.7mm
Lug-to-Lug: 45mm
Case weight: 59g
Water resistance: 20ATM (200m).
Movement: Epson VS22 Solar
Power Reserve: 6 months
Regulated accuracy: +/-20 sec/month
Lume: SuperLuminova C1
Strap size: 20mm
What I Like

The C5, C3, and D5 are all assembled in the US, and the Horween leather straps are all made by hand here in the states (and the C3 even features a USA-made movement, which is super rare).
All components of the C5, C3, D5 and D5 were assembled in America. The Horween leather straps and Horween watch are made in the USA by skilled craftsmen.
The dials with military inspired designs are my favorite.
I love the vintage military-inspired dial designs.
VAER offers a solid 30-day return policy, plus a generous 2-year warranty.
VAER provides a 30-day guarantee and a 2-year warranty.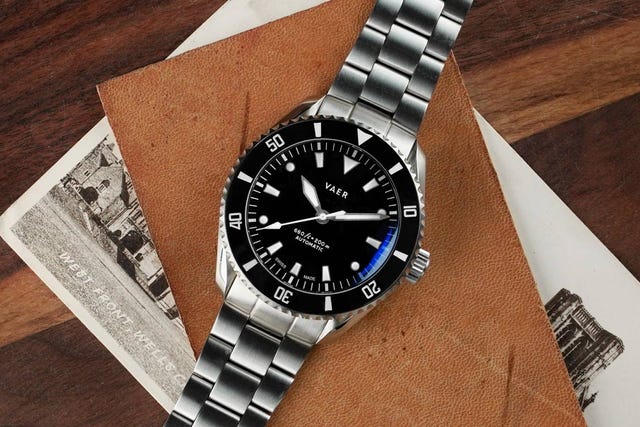 Quartz Movement

Quartz watches can be powered by batteries, but automatic watches like the Vaer A5 would draw power from your arm's movement.
Another difference is that a quartz watch moves once per second while an automatic watch moves multiple times a second, making it look like a non-stop sweeping movement. Although I do not own one, I have seen many of them and I find them to be absolutely stunning.
The Vaer A5's $449 cost reflects the complexity and difficulty of automatic movements. Automatic watches are made with lots of craftsmanship and artistry developed over centuries. Automatic movements have a rich history. If you have enough money and want to get the best, an automatic watch is the right choice.
While I am interested in beautiful timepieces, I'm no HODINKEE reader and am not willing to spend thousands on "status symbols." A watch for me, like the other products I own, should be functional and beautiful. But they shouldn't be excessive or extravagant. I travel often, and the last thing I want is to stand out enough to become a crime target.
Vaer C5 Field Watches are extremely well built and don't pretend to be something that they're not. In a world that is constantly trying to make themselves appear more than they really are, I appreciate the Vaer C5 Field Watch's simplicity and down-to earth products.
When it comes to a watch, all it really needs to do is tell time accurately, and of course, the Vaer C5 Field Watch does this. You might notice that the secondhand does not stop exactly on the markings. This is quite normal for high-end watches such as Omega or TAG Heuer, and it does not impact the precision of the watch's timekeeping.
Nylon is durable and high-quality. It's thick and sturdy but is quite rigid that some find uncomfortable.
The quick-release mechanism is great since no tools are necessary to change the strap quickly, but I did notice it was still a little difficult to get the bolt in exactly the right place. The nylon gets in the way when the bolt is pressed down.
Is This Field Watch Good Or Bad?

Disclosure: The sponsored post includes affiliate links. VAER provided compensation for honest reviews. All opinions are ours.
The beautiful, sweet-looking piece was made with sapphire crystal in the USA. Young brands often have some kinks, don't they?
However, this isn't always the case. We dive in to VAER watches and review their top models.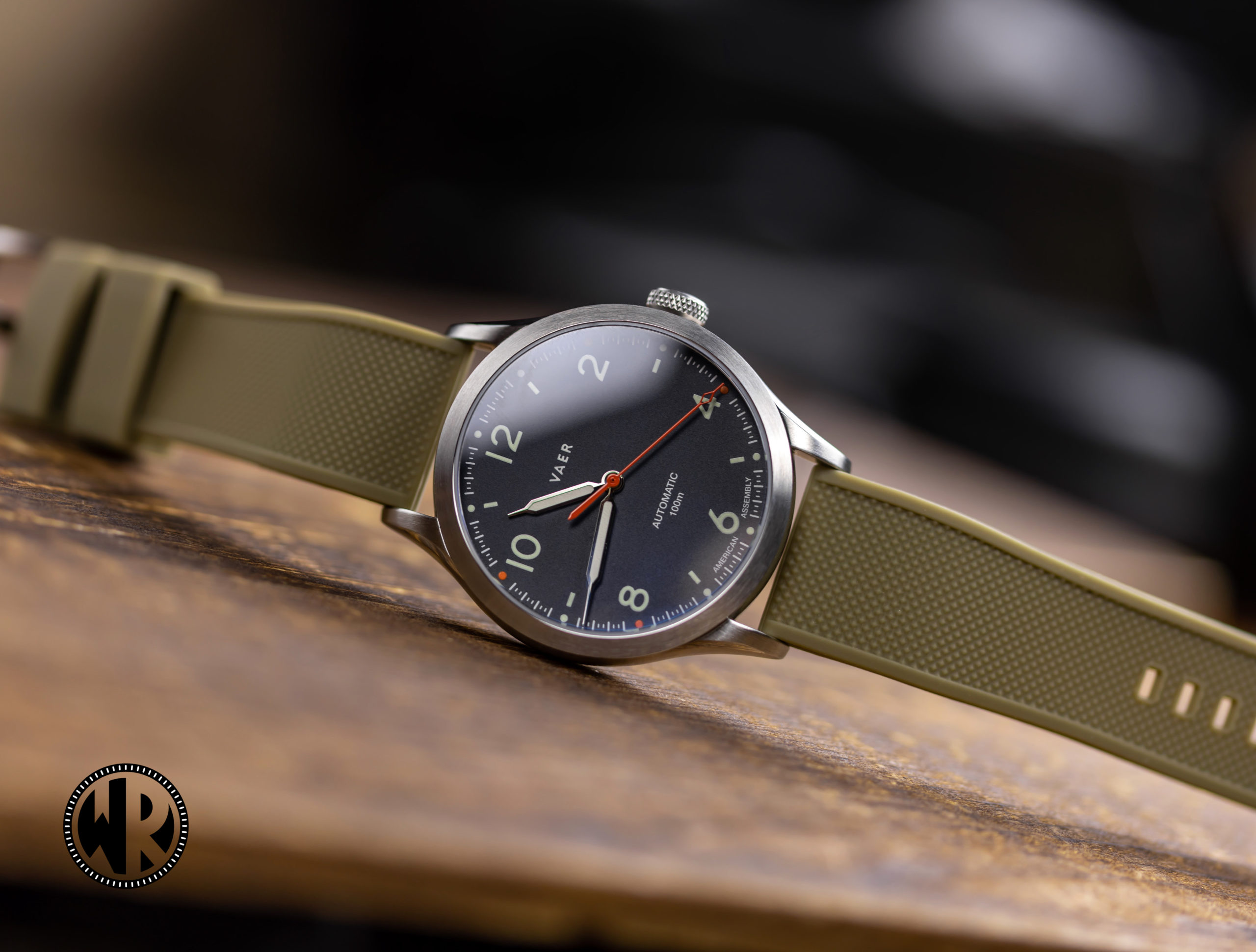 The pros

Classic, comfortable, and nicely sized twisted lug case
Ceramic bezel insert often found at much higher price points
Incredible value for a Swiss made automatic movement
Hacking Seconds
200m Water Resistance
Element of Vintage Design Inspiration
Easily changeable strap options
Lume

The lumed elements in this set are all Grade X1C1 Super LumiNova. Larger elements shine brightly and retain their charge well. The inner ring has narrow strips that naturally fade a bit quicker, but that is to be expected.
Both the hands and bezel have a generous level of lumen, which makes them glow brightly and gives them a long life span. It also has a lumed seconds hand. I like the triangular small-sized lumed element that is on the dial. This serves to provide an inner orientation guide when using the bezel. I have no complaints.
Visibility in low-light conditions

The C5 features seven layer C1 Super-LumiNova hands and numerals, which in my experience performed as well as I'd expect in low-light settings. The watch was easy to read outdoors, even at night.
The only time I'd say visibility was an issue was indoors in a completely darkened room, but that's par for the course without battery-powered lighting. When I "charged" the watch by shining a flashlight on the face for a few seconds before shutting off all of the lights, the glowing numerals and hands were crystal clear.
At The Wrist

While the VAER Pacific is not large, it keeps its vintage appearance while still looking modern. This will fit most men and women, but i wouldn't advise very large guys with big wrists to go for this model (although the small vintage size will be even truer for them).
My 17 cm wrist is hugged by the slightly curved lugs, and end-links. Although the lugs are angled at their ends, this is a great feature for small wrists (16 cm and lower) but may look strange on larger wrists. Most men won't have to worry about this though.
The Case

It is nice to have a case that has been thought of and not just a random piece of metal. The 316L stainless steel case of the Vaer Automatic is softly brushed on the sides, bezel, and lugs but there are tasteful, polished chamfers around the base of the bezel and along the outer curvature of the lugs. These chamfers offer a visual softening of the case geometry that is pleasing to the eye and allows the lugs to better flow onto your wrist.
Brand History & Values

"My original inspiration for starting a watch company came from a frustration with finding a good looking, affordable watch that I could surf with in the early morning, that I would also want to keep on my wrist when going into the office. Many ocean watches had rubberized and bulky watches that were not well made. It was finding the solution to this problem that the vision for Vaer was born. "
Stainless Steel Case

Most watches are made of ceramic, titanium, or stainless steel, with stainless steel being the most commonly used.
Field test

The C5 is fundamentally a field watch. I tried my best to get it out into the field as many times possible over the last few months. I'm not fortunate enough to live by the beach so I can't speak for the surf and diving capabilities, but when it comes to mountains, lakes and wooded trails, Utah's Wasatch Front turned out to be a great testing ground.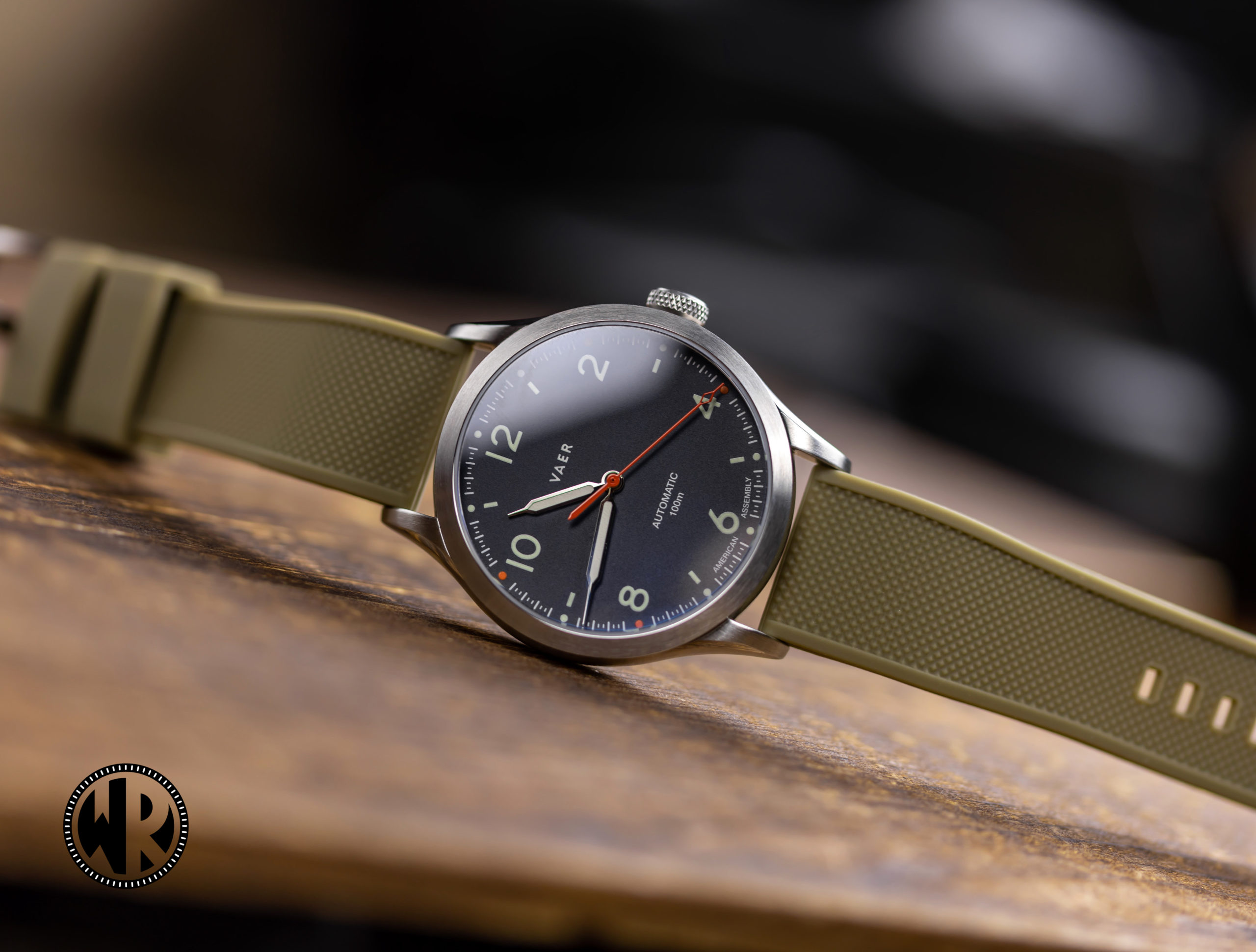 In Short

But making a vintage inspired watch is easy. Making one that looks this good from all sides, with unique and fresh details that still keeps the charming vintage allure, is another thing. VAER was able to achieve this feat.
Vaer Watch Review
Final Thoughts

Independent brands like Vaer are able to provide substantial value and a modest price for watchbuyers by carefully sourcing the key components. Vaer Automatic is an excellent example of this type of watchmaking approach. Kickstarter backers will now be able choose from 3 automatic movements or multiple dial designs.
Miyota 9015 – Offered in four dial options including date and no-date variants. They will be assembled by hand in Los Angeles. 299 Early Bird Price ($449 Retail)
ETA 2824 – Also available in 4 dial options, including no-date and date. These will be Swiss Made. $449 Early Bird (599 retail)
ETA2895 – This Vaer Heritage "Dirty Dozen", which has small seconds, is called the Vaer Heritage "Dirty Dozen". These Swiss Made models will have one dial. $599 Early Bird ($849 retail)
Notice: Some of the options may change as the Kickstarter campaign progresses. This is due to demand. You can also choose from two dial styles (Design Light and Design Dark), which offer modern interpretations of the fieldwatch aesthetic. The dial options are less formal and feature slate-blue dials. Syringe hands complement the dials well. This version also features a well-integrated date window.
Although I was unfamiliar with Vaer's brand name until recently, two things stood out to me about the company. Vaer has been pushing for American labor and components to be sourced as economically feasible. It's not surprising that they will continue to do so. It was also great to find the owners responsive to any questions I had, even when they were aware that I would be reviewing my wristwatch. I think that's an excellent hallmark.
Mark retired in 2018 following 37 years of service in the financial industry. He "Discovered" watches in 2015 after seeing a photo of a Steinhart OVM1 in a car forum. He has now filled up two watches boxes, and is currently trying decide between purchasing a third or thinning the collection. He also enjoys hiking, photographing and working on cars.
Vaer C3 Full Review

"Why don't you ride a Harley?" Good question. I like to buy American, but prefer Japanese. Short answer, "Because Harleys don't appeal to me." But I don't want to be a burden on my fellow countrymen. That brings us back to the American Vaer 35mm watch. . .
Fine Timepiece Solutions Ameriquartz movements are something I've read about since reading the American Waldan Watch. Being a quartz fan, I looked into the company's client list. The Harley problem was my issue. Vaer was my favorite watch, but the watches weren't appealing to me.
Vaer is not the Americanized name. Vaer is often written in capital letters, so it almost looks like an acronym. Unfortunately, there is no explanation on the website for what name refers to. So I asked. A founder Vaer, a Nordic word that can be used to describe a microbrand, is an example of a nordic word. It has many meanings. We have deep connections with all three words: "To Be","We" and"Weather", as we believe in spending quality time together outdoors. Also, we simply love the sounds and looks of the word.
That should read V r. To avoid being too pedantic it could be V s – which might confuse search engines or annoy reviewers. Vaer's models names, which are similar to German sport sedans, have short alphanumerics. C3 means "Custom USA quartz (36mm)." Custom does not mean that you will be able get a regular full Arabic dial. It's not my favorite dial, but I prefer the Standard dials. They have at least half of the numbered indices and two-color printing. The domestic provenance requires sacrifices.
Three numbered indicators are only available on the Tradition Black dial. This is an unmarked Rolex Explorer pastiche. All other markers feature inward-pointing, arrowheads. They are shown on the website as the classic pale lemon-lime lumi paint color.
But I can't decide whether or not the tester is darkened with black paint. To be honest, the colorist in me would prefer white even if it gives off an old-radium glow.
The watch doesn't glow like radium though, as Super-LumiNova C1 isn't the brightest. The C3 was worn under shirts, just like other chintzier, dinkier watches. It never charged naturally.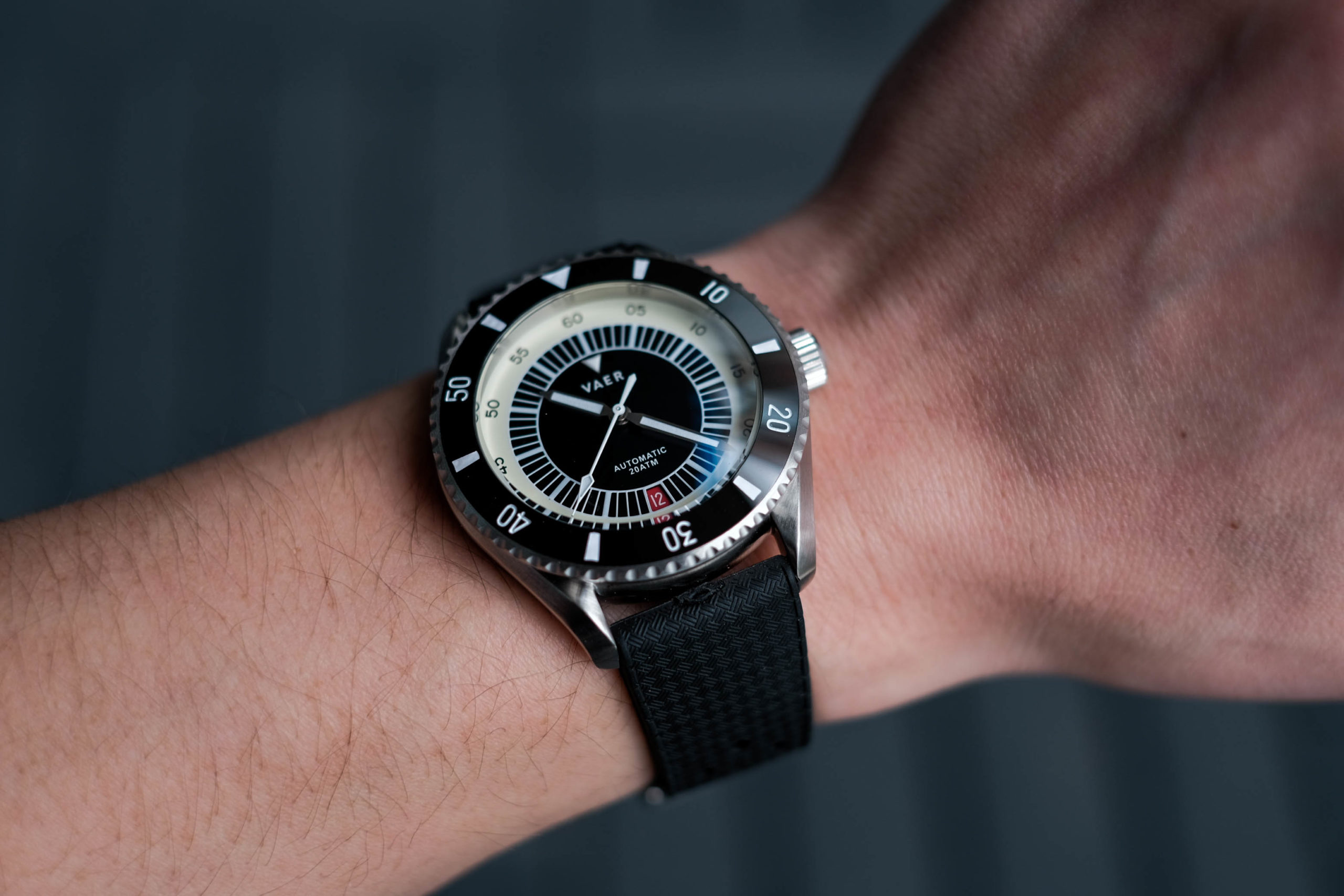 Vaer Watches Review – Is this Field Watch Good or Bad?

Disclosure: This post contains affiliate links. VAER gave us compensation and provided a product as courtesy in exchange for an honest review. All opinions expressed here are our own.
This beautiful piece is made in the US with sapphire Crystal and has a sweet, military look. Young brands have to learn a lot, don't they?
It's often not true. We dive in to VAER watches and review their top models.
Vaer Atlantic Hands on Watch review

Hands on Watch Reviews Vaer Watches Vaer D7 Atlantic
Like most of us these days, you are probably on Instagram and Facebook often, and as a watch enthusiast and blogger/YouTuber/watch journalist, I am on these platforms a lot. I was on these platforms when I came across Vaer's Vaer D7 Atlantic dive series and Vaer. Their sponsored ads on these sites seem very expensive, and they may have used multiple ads. You might not have seen the ads if you don't know Vaer or what their primary focus is. American Assembled would make these field watches very reasonable. You can get them for as low as $199. The watches are priced at just $199 with quartz movements and sapphire stones. From what I have seen, they look pretty good as well, and for that price, I think those watches are probably hard to beat. Vaer was founded in 2017 by two friends who are avid watch enthusiasts. They have been very successful so far with their range of field watches. Last year, when I first saw their ads for their dive watches, I was very excited. They promised a top-quality watch at a low price and made in America. It is true that they made the exact same watch. However, this isn't it. Here is my review of the D7. This Swiss Made model is what I am using. This has an ETA 2824 movement and is marked Swiss Made. What are the other differences you ask? Well, none. So, today I will be reviewing this vintage-inspired dive watch that is quite attractive but also answering the question-Is the Swiss Made version worth it?
Pricing as Shown: $899

https://www.vaerwatches.com/pages/dive-watches Let's dive right into the pricing. Vaer Dive is divided into the D5 (and D7) versions. American-made, just like the field watches they are based on, is the D5. The D7 is the Swiss Made Series. Both have the same dials, straps, case backs, etc. Apart from the price difference, the only thing different is how you choose to use your movement. Every model comes with a standard tropic rubber band and can have either date or non-date options. For $100, you can get a stainless steel oyster-style bracelet. American Version: This version is not assembled, it's manufactured. It starts at $499. Swiss Version starts at 799. Spinning wheel discounts are available online. These can cut down on prices up to 15%, at minimum at the time you publish this article. Dial options are pretty much the same as well, though there is one dial you can only get with the D5. This sounds confusing and complex. While I think it is, the reality is that it can be confusing and difficult. It is not clear which of these camps you are, but I prefer it to be simple.
On to the watch. Vaer D7 Atlantic sports the date window at 6 o'clock and the pencil hands. It is the most familiar design we've ever seen. You will recognize the lyre lugs from Omega and the dial and crown positions that make it reminiscent of Rolex Milsub watches. It looks more like a Rolex Milsub with broadsword hands, but this is intentional. Have we seen these designs time and time again from countless microbrands? Yes. Does that make it a problem? Well, that depends on how you feel about homages and vintage-inspired pieces from microbrands. These dive watches from Vaer are overall well constructed, and I like the look here, as again, it is very familiar, but classic styling is classic for a reason, and 20 years from now, I have no doubt this style of watch will still be just as popular. (That is if we are all not half-robot and have internal clocks in 20 years. I mean, who knows these days.) This case is all brushed with no high polish. It is unusual for this watch style but I like it. Watches often try to enhance the look of the case with bezel edges or high-polished crowns. While I like the idea of high-polishing a dress watch, or one that has a more flashy look, this is not the best choice for this type dive watch. When it comes to the actual steel, it looks and feels well finished and I found no rough edges to speak of. The crown is solid, easy to use, and while there are no actual crown guards, it screws down into a case cut out, so the crown is not sticking out awkwardly from the case. The watch measures in at 39mm and has a 40mm diameter bezel. It isn't too big or more precisely, it isn't over-sized. Also, the watch's lyre lugs give it a larger appearance so that it does not look too small on my 7 1/2″ wrist. It is also comfortable to wear every day, without getting in the way, and can be used for any activity.
The dial is what you would expect with a watch like this. Vaer D7 Atlantic does not have any erroneous information, but the dial and hands are easily visible. If you get close enough, you will see that the watch is meticulous when it comes down to filing minute and hour hands. There is an issue with the ceramic bezel insert and the bezel. When a watch comes with double-domed sapphire, such as this one, sometimes it is difficult to determine if your bezel insert marks match the dial. It is necessary to adjust the angle of your watch to ensure that they align correctly. This is the end of my explanation. In my example the 30 marker and the triangle do not line up. On my example, it almost looks like the triangle and 30 marker were mistakenly placed at an edge. It functions perfectly and has almost no back play.
There aren't many options when it comes to strap selections for the D7. It only comes standard with a rubber tropic and can be customized with additional straps, such as a single-pass nato or 2-piece nylon, for an extra $50, Horween leather straps ($50), or this oyster bracelet (100). This is where there are problems. Swiss-made versions of the bracelet have a Swiss ETA2824 Swiss watch movement. The bracelet costs $899 and it's not worth the money. Yes, bracelets look great on watches. But at $900, this was not what I had in mind. It is a basic bracelet that has a standard clasp. If you buy the Miyota version of this bracelet and purchase a bracelet to match it, however you will be spending a lot less. The price is $300.
Vaer D7 Atlantic certainly looks good. The watch uses all of the high quality materials that we expect from microbrands these days. And as you will see below, the Vaer C1 Superluminova is very good at keeping the watch illuminated in the dark. Sure, in this version, you are getting the Swiss ETA movement, and I guess are supporting an American company, which is something I am obviously fond of. The current microbrands are responsible for manufacturing still occurring elsewhere. It is difficult to create and produce watches in the USA these days. Who knows? Unless a major company decides to spend billions on revitalizing America's watch industry. It is not clear if this would happen. Would consumers still want to purchase watches that are made in America? Most of us know how much we pay for American products. Watch collectors also love microbrands for their affordability.
Yes, I do. You might think I'm being hard on the watch. Maybe, I'm being hard on this watch. However I try to think of these watches as consumer reviews. Everything is the same for the D5 as the D7 except that of the movement. It is possible to claim the D7 was assembled in Switzerland. That may be something that you find meaningful. That doesn't mean much to me these days. I prefer the Swiss movement option. This would still have increased the cost above the Miyota but would not have been as expensive as having the watches assembled abroad. To be honest, I do not remember ever seeing a watch that is identical but is assembled in two different locations like this Vaer dive series. As I began this review, my question was: Is it worth buying the Swiss Made version? It is, at least in my view. That is just my opinion. I feel you get the same quality watch with the D5, with a Miyota 9015 movement, which does not feel lesser than the ETA 2824. Swiss Made is what some consider to be the most important. If you want a Vaer watch, the D7 will do the trick.
You can still save quite some money by choosing the D5.
Your cart

www.OceanicaWatches.com VAER Watch Review – American Assembled Quality Everyday Watches under $200 Click for VAER Webpage The Vaer field and classic variations both contain the same materials and dimensions just to lay that on the table before I resume here. Vaer actually makes some great waterproof watches. They surprised me my first time handling them. Solid 316L brushed case feels tough and robust with beautiful brushed finishes. The actual dimensions come in at just the perfect modern size of 40MM by 9.5MM thick. It is a size that I believe can accommodate those who have average wrists, such as mine. One of the best aspects of their timepieces is that they are actually assembled here in America in California – where Vaer hails from in Venice Beach. They have a 100 Meter water resistance, with both a crown and caseback that screw down. This watch is perfect for everyday wear, no matter the climate.
You will find your no-nonsense, legible arabics on the dial. The matte black dial comes with the field model. You will also find a 24 hour military band on the dial, which was used by field watches in war years. The hands are long, rectangular and filled with good lume. I also like the arabic numerals. It reminds me of the Hamilton Khaki field. At 6:00, you will see "American Assembled" printed. This is a nice feature on watches nowadays as most smaller brands are made and assembled entirely in China/Hong Kong. It is legible, easy to see at a glance and I find it very useful. Classic models have a much simpler and more casual dial, with nice blue colors. This watch is the type of style I would wear with jeans and a shirt while strolling along Rodeo Drive eating ice cream. Sapphire is stronger than mineral crystals, and it's more resistant to scratches.
The movement utilized in the date model is the Ronda 715 which is a very good swiss made quartz movement. You can use it on a single battery, and the accuracy of this movement is within two seconds. Non-Date dial on this classic model has the Ronda 515 SWISS movement. The movement works in the same way as the standard movement but without any date functions. These movements are very affordable at less than $200.
Nato Strap or American Made Leather?
Vaer includes two straps with each watch they sell and there are a number of colors and variations to choose from if you take a look at their website. Two straps were included in my field model: a Black Nato and a Baige Nato. All the straps come in 20mm and have a spring tool. The quality is decent with brushed branded hardware and they feel comfy on wrist – no issue here. The Classic also came with an additional Horween American made quick-release band, which is produced in California. It's one of those bands which feels almost custom designed for you.
Vaer offers great value-oriented packages that go well beyond their cost. When I look at the value of their timepieces, they definitely tick all my boxes ( Sapphire – Excellent casework – Swiss Movement – Extra Band ). I'm able to highly recommend the brand and believe that most of my readers would like it as much as I do.
A mechanical movement's main part is its mainspring. This spring transmits energy and gradually unwinds. Even though it requires winding up, a mechanical watch can still keep precise time. … A small, weighted rotor is found inside an automatic watch. It must oscillate to turn the mainspring.
Hamilton Khaki Half-Price

The Vaer Field's claim to be half-priced Hamilton Khaki Quartz Quartz is quite bold. Watch reviewer JodySmith used that exact description in his review (you can see the entire review right here ). The comparison is not something we will complain about. Hamilton is one watch brand that has been able to achieve iconic status. While it's sad they don't have a Pennsylvania headquarters, Hamilton's historic legacy provided strong inspiration for the creation of our first "adventure-watch".
"The Vaer Field finishes are consistently superior to the Hamilton Khaki quartz counterpart." Jody M. Musgrove, Just Another Watch. Beyond serving to honor American watchmaking tradition, Vaer's Field model has been a key step in establishing Vaer brand identity. Our Vaer Classic watch is our favorite, however, the company's brand recognition doesn't help much beyond its durability. While there are many companies that make affordable watches for the casual consumer, very few manufacturers of high-end field watches.
The Vaer Classic, while cool and not looking like it should surf in it; the Vaer Field quickly communicates that it can be used outdoors. This helps to align the company with the long tradition of military timing.
.Vaer Watch Review