Theragun Pro Review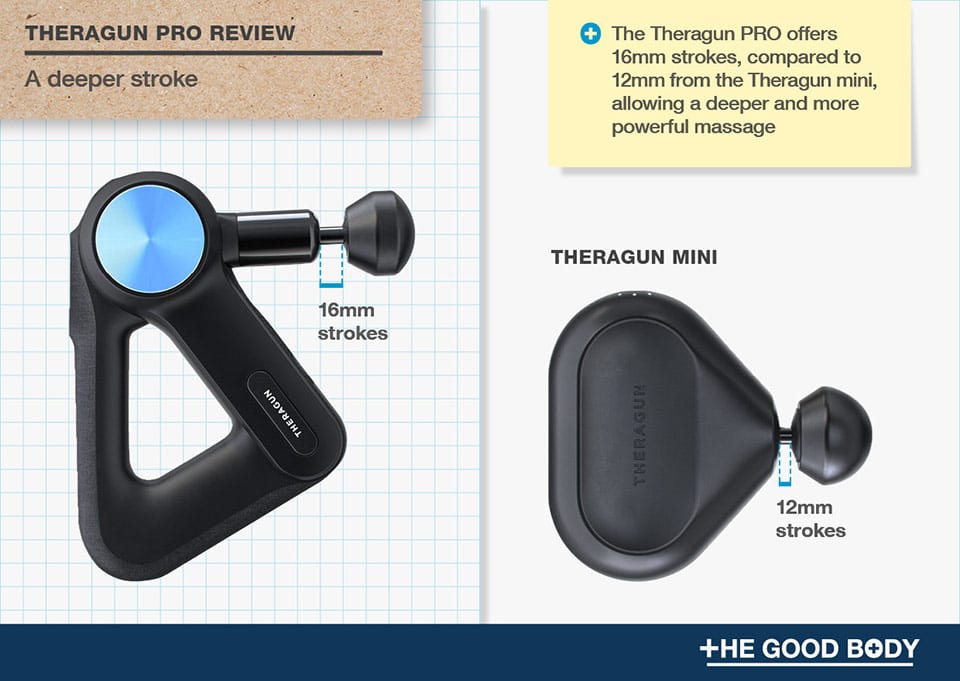 Theragun Pro By Therabody

Theragun, as many people are familiar with it, is the center of percussive therapies. They launched the first massage gun available on the market in 1995 and haven't looked back.
Since 2016 they have mesmerized the percussive therapy industry with one innovation after another. They're like the Apple of the massage guns world.
The G4 Pro means that it's a fourth generation device already. They released their first Pro about 5 years ago.
Their devices don't skimp on what they do. The Pro is therefore the most costly. This is what we will be discussing today.
Do you think the price is justified? Many devices are available today with similar or better features to the Pro.
What is the secret to Theragun Pro being the industry's king? Or would you prefer to go with its competitors? Theragun Pro reviews will cover all of this.
Theragun Pro PercussiveMassager

While it mostly retains the same great look as the previous model, the Theragun PRO is vastly superior in performance and options. From a performance standpoint, the Theragun PRO is not only quieter and lighter than ever, but the Theragun PRO is loaded with new technology, as it boasts all-new features like Bluetooth compatibility and Wireless charging. You won't have to recharge the battery very often, thanks to its amazing 5-hour battery life.
The 2020 Theragun PRO is not just a slight upgrade on the previous model, it's a substantial leap ahead. We'll take a closer look at the PRO upgraded to learn more about the model and determine if it suits your needs.
Continue reading below for my full review of the Theragun PRO massager. Are you too busy to complete the review?
You can click here to jump to the end and see my summary of review.
Accessories

The TheragunPRO's hard case is a trademark design that allows you to easily transport your TheragunPRO everywhere.
The Theragun Pro also includes two extra batteries, a charger (more information below), and six attachment heads. Attachment heads include the standard ball and SUPERSOFT as well as a cone, thumb, dampner and wedge. As I mentioned earlier in this review, the SUPERSOFT is a huge advance in the category of handheld massagers, as it allows you to even treat even your temples and all along the upper neck and head areas. The SUPERSOFT is something you have to experience to fully appreciate.
SUPERSOFT – A revolutionary breakthrough that makes it possible to relieve tension headaches.
Smaller round balls: These provide a good all-around treatment.
This is the most similar thing you can get to your thumb as a massage therapist! They are ideal tools for subduing the most difficult knots.
Dampner & Wedge tips are great for treating small muscles groups, and those who have smaller bodies. Ideal for lowering intensity.
Theragun ProG4 Review: Powerful, but do you really need it?

Chris Singh A lot has been written about Theragun, a professional-grade line of products that can be used for percussive massaging therapy. With the new 4th generation, professionals are beginning to take advantage of these easy-to–use devices. However, these devices are freely available. Should the home user be concerned?
The fourth generation of Therabody guns has arrived in Australia. It now comes with a small version as well as the standard 'pro' model. I am a non-expert when it is about massage and muscle therapy.
This review isn't meant to replace medical advice. My experience with this gun is just that.
Theragun has been operating for many years under this name. However, Dr. Jason Wersland, who founded it after a motorbike accident, just underwent an immense transformation and now calls itself Therabody. Now, the company has its own CBD product lines and will play an important role in health and wellbeing. They also continue to use their well-respected massage guns.
The guns themselves are still being released under the Theragun brand, which for the fourth-gen has welcomed four different devices. The Theragun Pro sits at the top, with the Theragun Elite (mid-range) and Theragun Prime (mid-range), and then the Theragun Mini (entry-level portable option).
As I haven't had the chance to spend more than a month on this device, I will be focusing my review only on Theragun Pro.
Is Performance What You Really Need?
Theragun Pro Review: An in-depth look at Theragun's super-expensive percussion massager gun

With many percussion massagers becoming increasingly popular, people use them for benefits that are not available with traditional electric ones.
A percussion masseur is great for loosening tight muscles and knotted fascia.
This deep-tissue massage can treat pain, misalignment and prevent injuries post-workout.
Theragun is a brand you might not be familiar with if you're just starting out in the game of percussion. Their high quality massagers are what sets them apart from the rest.
TheragunPRO is their latest percussion masseur and their flagship product.
If you're interested in buying a Theragun PRO you're likely wondering if it's worth the money or if you should go with a cheaper brand?
Here's the good news: I have answered this question myself as I tried it for myself.
Theragun Pro Review after 30 days of use: Is it worth it? (2021)

The Theragun Pro is a percussive handheld device designed to deep-muscle treatment. You're here to find out if this investment is worth the effort. Theragun PRO was reviewed by our team after it had been used for 30 consecutive days. Its power, efficiency, simplicity, usability, and many other features were examined.
If you've recently caught onto the massage gun blaze, you might have heard of Therabody, one of the most popular and well-established brands in that industry. Therabody has a long history in the fitness industry. Therabody's ambassadors include Maria Sharapova, Christiano Ronaldo and Paul George, who are all wildly successful athletes.
Therabody's newest line of Smart Percussive Therapy devices encompasses the Theragun PRO, Theragun Elite, Theragun Prime, and Theragun Mini. The TheragunPRO, their highest-seller is probably the most obvious. It is a professional-grade deep tissue masseur with a number of different features.
Currently, the price tag of the PRO model averages 899 AUD, which could be considered an extravagant purchase. You might want to take a look at our Theragun pro G4 review (2021), before you decide to spend the money on this model.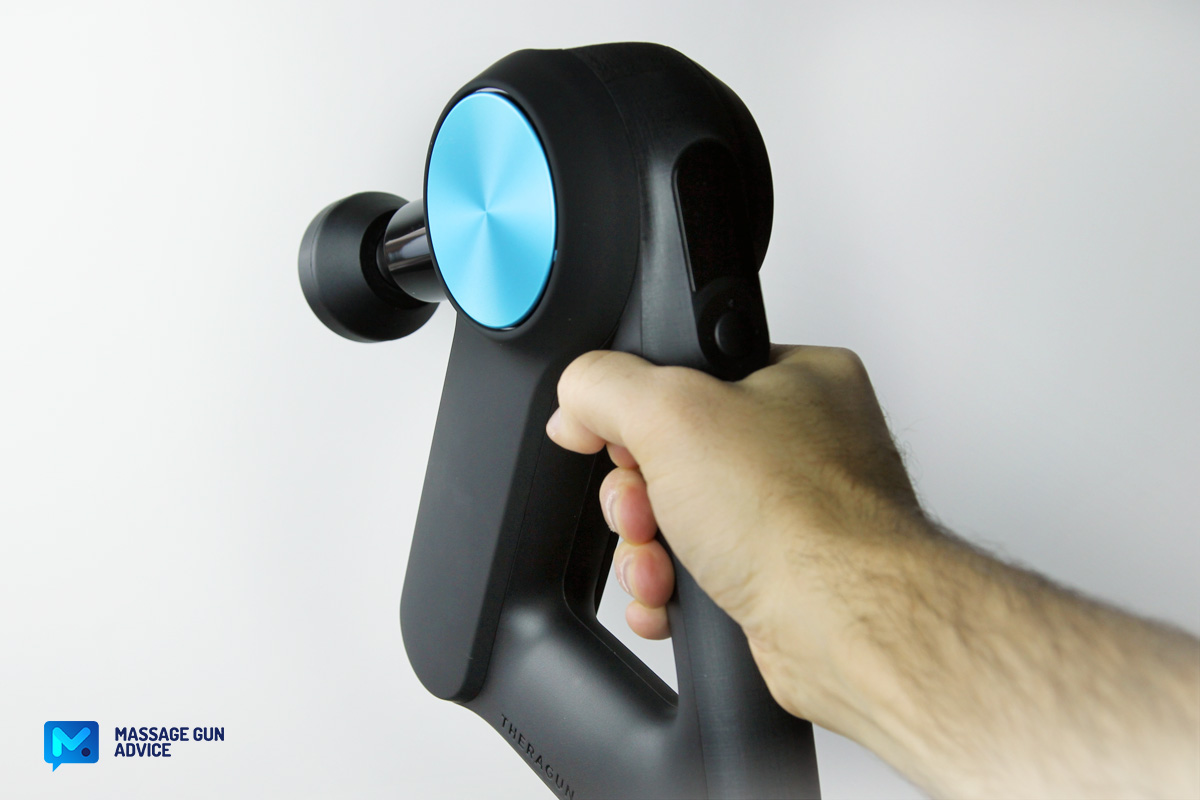 Theragun Pro G4 Specs

The Theragun PRO, according to the company, helps increase muscle recovery and soothe muscle soreness. It also releases stress and tension. The Theragun PRO includes a number of special features.
The TheragunPRO has a QX150 Engine with Quietforce Technology. The ergonomic and patented triangle grip is combined with 6 different attachments and an OLED screen that displays the force meter. It weighs in around 1.31kg.
Two batteries are included in the package, with an average battery life 150 minutes each (totaling 300 minutes), and a Li-ion battery charger. The Theragun PRO also allows Bluetooth connectivity and smart app integration, allowing you to create personalised routines or user guides and control your device from your smartphone.
As we unboxed the Theragun PRO, we were crazy-excited to give it a go!
Theragun PRO was used in our testing for 30 Days. Here's our report: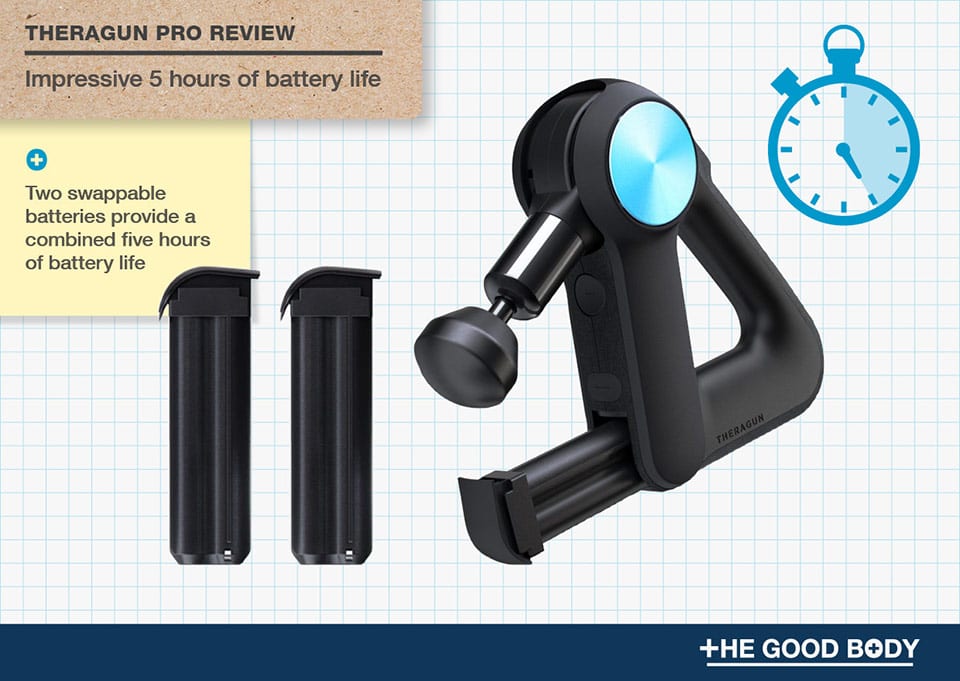 The Theragun Pro

We'll start our guide on massage guns by starting with the original Theragun Pro. Amazon says: "Like Kleenex to tissues, and Peloton to exercise bikes. There's a reason why Theragun's name is synonymous with percussive Massagers. It's simply amazing at what they do." This high-quality percussive device has it all. It's considered to be the grandfather of the percussive massager in that it's the first of its kind. According to reports, the founder of the company came up with this idea after suffering a motorcycle accident in 2009. He was looking for a pain relief method.
The design is ergonomic, which means no sore wrists or fingers after the use. Specific details are focused on functionality and longevity. Adam Dennison co-founder Lifestyle Op, which reviews the most recent products in physical and mental recovery. "While the high price is understandable and can be frustrating, it's not impossible to appreciate the value."
TheraGun PRO is widely used by chiropractors, trainers and professional athletes. TheraGun is in its 4th generation.
Smart App Bluetooth technology has been integrated into this gun. It allows users to easily monitor and adjust the speed from 1,750-2,400 percussions per minute by using the Therabody App.
Quietfore Technology and OLED screen are some of its other notable features. This model has all the same value as Elite, but is less expensive.
.Theragun Pro Review