Jenni Kayne Review
Jenni Kayne Fisherman Sweater

Jenni Kane's Fisherman Sweater is $395. It comes in both 100% cashmere (on the left) and 100% cotton Fisherman Sweater ($295) – (on the right) – and I'm wearing the size small. Both versions were great! It was my first experience with a Jenni Kayne piece of cashmere and I loved it! I was really impressed with how soft the cashmere was. It was not itchy at all. If you are thinking about buying something from Jenni Kayne I would go with one of their 100% cashmere pieces – like this sweater. You can also get the Fisherman Sweater in 100% cotton, which is about $100 less than the cashmere. But like I said – I really think that if you are going to buy something from Jenni Kayne it should be one of their cashmere pieces!
P448 John In Molly

sneakers (39) // t-shirt (M) // jeans (28)
It is very versatile and can be worn with many different outfits. I love the subtle python texture and the way it integrates some grey with the white. The tongue looks great in that tweedy material.
The sole is black, so in keeping with the overall neutral vibe.
They come with optional grey laces, and I think I like those better.
Another angle. They are super comfortable and soft right out of the package because they feature a suede toe. These shoes feel great on my feet.
Verdict: While I don't really need any more shoes, I do have a pair of sneakers that I will keep.
Allsaints Edbury leather shoulder handbag

bag // t-shirt (M) // jeans (28)
Totally loving this bag. The #NSale bag I bought was returned to me, although I absolutely loved it. It didn't match my outfit. I was thinking this would be more white than cream, but it's not, so I dunno. The contrast black strap is a great feature. It's a mix of casual, fun and edgy. I think it would be great for my wardrobe, although the price per wear might not justify it.
VERDICT: Deciding….
t-shirt (M) // jeans (28) // sneakers (39)
It's probably mean to share this, since inventory is low, but I wanted to update since I shared the small last week. Although the medium fits better, it is too long. I think it will probably wash up well, though.
VERDICT: I love the fabric and the styling, so I'm keeping it with tags on. I have a feeling I'll be glad I have it when the weather warms up.
My Honest Jenni Kayne Review

This isn't one of the typical Jenni Kayne reviews because it's not sponsored. I don't work with, or for Jenni Kayne and the thoughts are completely my own. I am a Reward Style publisher so the links in this post are affiliate links through Reward Style, not Jenni Kayne.
Jenni Kayne first came on my radar a few years ago when my husband and I purchased a 70's bungalow and embarked on a full renovation. Pinterest was my first stop when I started looking for inspiration. The interiors of California were so serene and coastal-inspired.
You can also read my Jenni Kayne Cocoon cardigan review here.
Last Thoughts

Disappointing as it is to learn that international orders can't be returned, I tend to mull over my purchases for a considerable length of time before splurging. So usually I'm fairly sure by the time I reach checkout. Only occasionally will I ever buy something I feel the need to see in person to make a solid decision. However, I would love for the brand to have an international return policy. I personally wouldn't mind paying the shipping costs if it was possible.
This is all to say, that I do not think that this will be the last time I buy from this brand. On my wishlist currently, is the Cashmere Cocoon Cardigan, Rio Slip Dress, Cashmere Peacoat, Everyday Kate Sweater Dress, and the Summer Dress
Would love to know if you've shopped from the brand! What your experience was like, and do you have any particular recommendations? x
Jenni Kayne Apparel Review

It's a great sweater that can be worn all year. It's lightweight but still cozy and features edge detailing on the bottom hem and sleeves. This sweater is casually great because of the side slits.
You can choose from seven different neutral colors and in sizes XS to 3X. I am wearing Ivory in a M.
Available in eight beautiful neutrals. I now own it in both the Ivory and the Oatmeal colors. It's my favorite piece that I've gotten from Jenni Kayne to date. I wear a size M and sizes available are XS through 3X.
This cotton fisherman sweater has the same texture and crewneck as the cashmere version. It is also available in a heavier, more luxurious weight.
Available in six beautiful neutrals – I'm wearing the Ivory in a size M. It runs slightly small so if you'd prefer a more oversized fit, I'd size up. Available in sizes XS through 3X.
Seen styled with this skirt in a size M.
Slouchy, comfy, cozy perfection. The hood and body are slightly larger than the rest, making it a cashmere sweater that you will want to wear every day.
In a size M, I wear the shade Oatmeal.
I fell in love with the fabric of these pajamas when I saw them in the store. They're a really lightweight yet luxurious feeling cotton. These cottons feel cool and cozy, so they're great for hot sleepers like me.
If you prefer to sleep in shorts, they have a shorts version, too. The Playa pajamas are available in Ivory and Blush in sizes XS-XXL.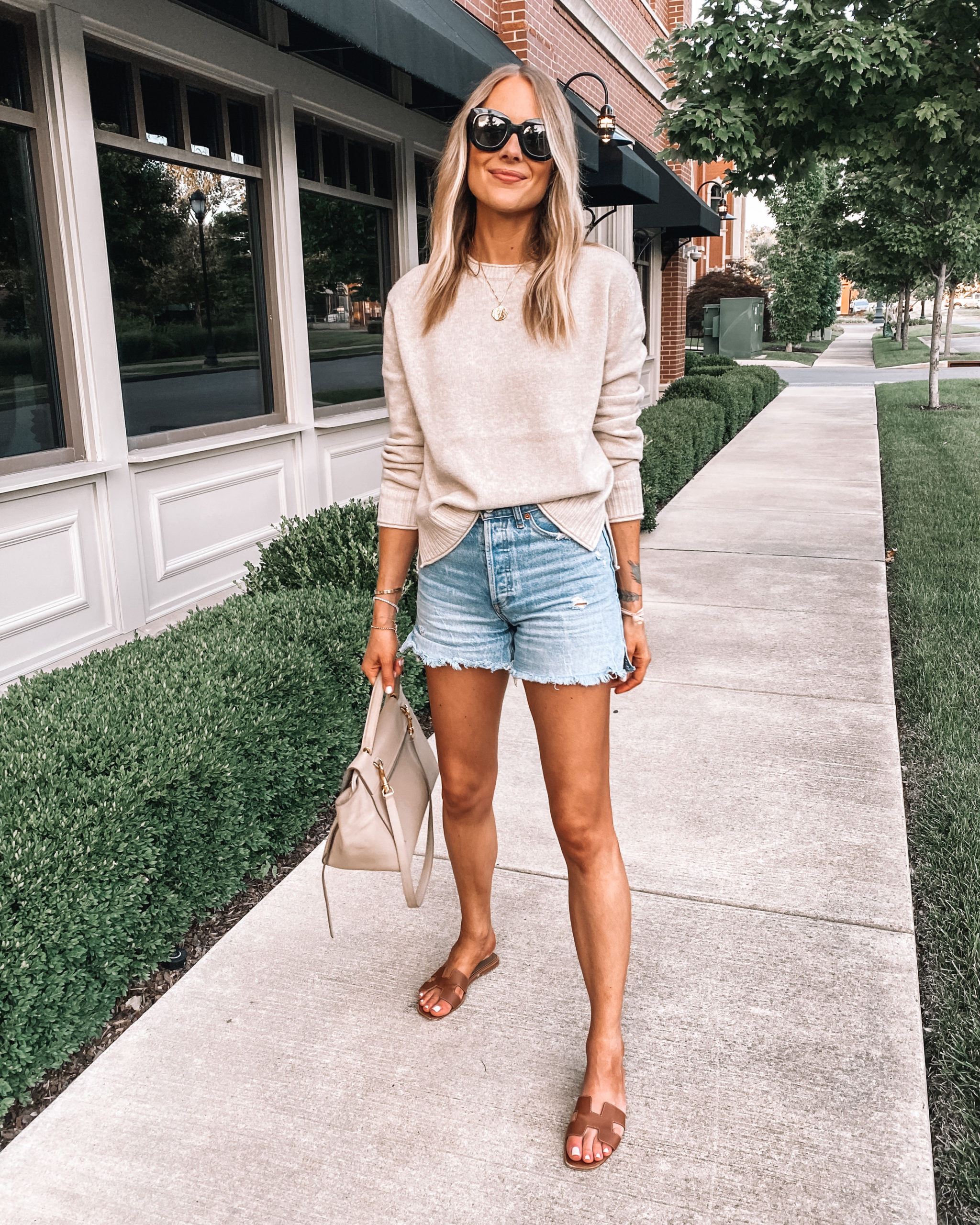 Athleta Inlet Jacket In Decadent Chocolate

Jacket (S/M); tights (S); sneakers (33).
I've had my eye on this jacket for a while, and I actually ordered it and returned it in a different color last year. It's bulkier than any other running jacket that I have ever owned, though I can't recall why.
At the time, I may not have wanted that, but I don't run with the intensity that I used to so I don't work up as much body heat. For super-cold days, I find myself wanting to wear something warmer this year. The size of the first three pictures is small.
The jacket is flattering in fit and has many of the characteristics of a running jacket. It has the quilted placket at the front and back that blocks wind. However, the arms and sides are made of stretchier scuba fabric for mobility.
Here it is zipped all the way up. I really like the high neck and the hood. I used it the other day, and the toggles keep it in place. When I'm not wearing it, it doesn't flop around or annoy me at all. The jacket's neck is higher than my chin and feels soft against my skin.
The size medium is shown in the last two images. To be fair, it was a close call. You can choose to go one of two ways, even though sizes are very limited at the moment.
VERDICT – I am keeping the small because it fits comfortably under my training turtleneck and is a bit less bulky.
Jenni Kane is Jenni Worth it?

Overall, the Jenni Kayne pieces are luxurious and high quality, although, you are definitely paying a little extra for the brand name. Their 100% cashmere shoes or pieces are my choice over any other products in the collection. Overall, sizing does run large. If you want your pieces to look like how the models are wearing it in the photos then take your usual size for an oversized look. If you want a slightly more fitted look then it's probably a good idea to size down. My favorites are the Cocoon Cardigan, Fisherman Sweater, and Crossover Sandals. My least favorites are the Twill Pants and Merino Sweater (because I feel like you can get these styles at other places). Jenni Kayne, a California lifestyle brand. I hope that you found this review enjoyable! If you have questions, let me know!
Jenni Kayne has recently created a new skincare line. You can read my full review here of Oak Essentials Line!
MORE JENNI KAYNE REVIEWS!
Sweater Review: Cocoon Sweater, Cabin Sweater, Fisherman Sweater + More!
Cashmere Cocoon Cardigan and Shearling Mule review
Summer Dress + Canvas Slip Dress and Sneaker Review
Cotton Cocoon Crossover Sandal + Cardigan
And now that you've bought an expensive sweater, make sure you are taking care of it properly. Check out my post:
How to care for your sweaters
Jenni Kayne Playa Pajamas

The Playa Pajamas are a 100% gauzy cotton (Playa Pajama Top- $145, Playa Pajama Bottom $145). They are exactly the type of pajamas you would receive at a luxurious hotel. They are soft and super comfortable. They already look worn and wrinkled. I feel like these are the kind of pajamas that you could sleep in and lounge around in. I'm wearing the size small in the top and bottom (sold separately) and I definitely wouldn't size down. They would be too snug if you went down to an S in the bottoms. You can also get these pajamas in different colors or with shorts. The willow color that I'm wearing is no longer available.
Shopping experience

There are a few things you should know. Jenni Kayne only ships internationally to a small number of countries. These items are listed below. Only certain products are eligible for shipping: clothes, footwear and soft furnishings. All orders are shipped using FedEx with a flat fee of $30 USD. All pretty standard as a shopper from outside the US. You will be subject to import duties if your order exceeds $1000AUD. I'd recommend checking import duties for your country if you live elsewhere.
The one thing that I didn't pick up on was international returns. After reading their returns policy I assumed it would also apply to international orders. It doesn't. All purchases shipped out of the US are considered FINAL so you need to shop with care, and be really certain before heading to checkout.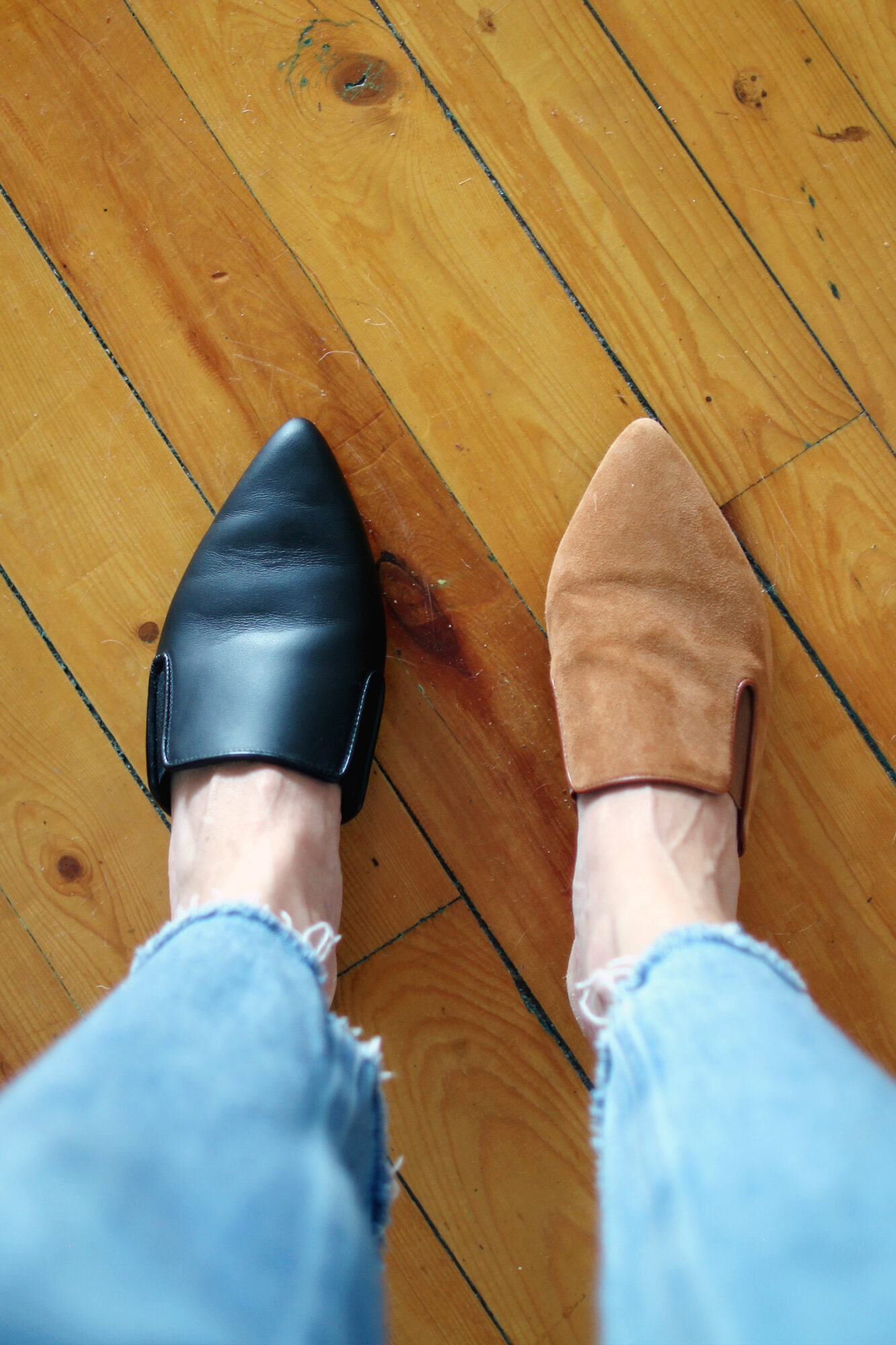 Cashmere Cocoon Cardigan

Prices: $378.25 USD $445 USD
Designed with an oversized fit. You are wearing an XS. More information on the fit is below.
Materials: 100% Cashmere. Faux-horn buttons.
It may be my favorite cashmere. It's truly like wrapping yourself in a cloud. The sheer amount of cashmere that was used is what really makes this piece stand out. It is generously luxurious and lavish, the brand stated.
Dry clean. Continue reading for more information about maintenance.
All shipping is free within the USA International shipping now available for a flat rate of $30 USD. Keep in mind all international orders are final sale and customs/duties may be charged.
SHOP THE CASHMERE COCOON CARDIGAN HERE
USE LEEE15 to Get 15% Off
Athleta Polartec Funnel neck (Size Small).

Sweatshirt (S). // Tights (S). // Sneakers (39)
I saw another blogger reference this pullover, and I know I like the Polartec fabric (it's the same as these tights), so I ordered it on the spot. I thought it could be a good piece for walking the dog and hanging out at home.
It's cozy and really soft inside, and it skims the body without clinging, but there's something about that kangaroo pocket that I don't love. It's so big, and it seems to call attention to my midsection and create extra bulk in an area where I definitely do not need it.
VERDICT : This one is a bit of a mystery to me. Maybe I'll see if they'll give me a price adjustment, since I did not get it on sale. This is an item I want to be able to reach for, so I will keep the tags and watch out for any return windows.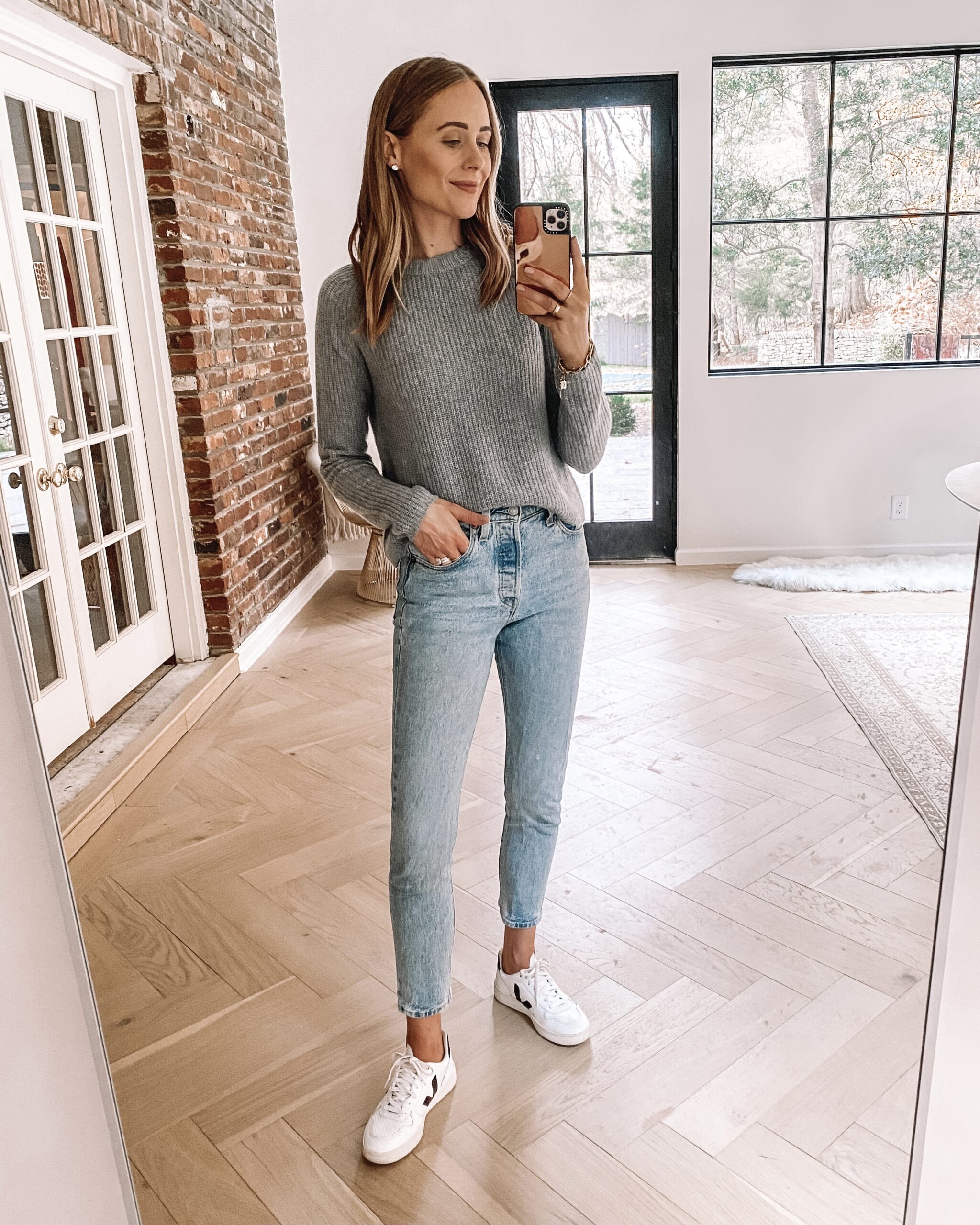 It is Fit

The fit is perfect for me. I'm wearing an XS. After reading many positive reviews, I decided to go down a size. As you can see, it's still very roomy and has an oversized fit and feel without being too big. I can layer it under my loose fitting coats without any problems and the lightweight cashmere doesn't make it bulky.
The sweater comes in 10 sizes, ranging from XXS to 3X.
Open
Top button done up
All buttons done up
It fits well over jeans, with plenty of room at the hip. It's the ideal mid-length knit for me, as the hem is just above the hip.
What The Cocoon Does:

"Oversized" is quite the understatement when it comes to this cardigan — it runs so large that you could likely order two sizes down and still achieve a baggy fit. For reference, I'm 5'3", usually wear a medium on top, size 26/27 on bottom, and I went with a small in this cocoon. The boxy body is 25 inches across when laid flat. This is 50 inches if the cardi size small is worn up. (The Cashmere Cocoon Cardigan is offered in sizes XXS to 3X.) The cardigan is drapey and drapey. It hangs just below my shoulders, cascading down to my thighs, above my hips. The V-neck plunges too deep to wear the cardigan by itself, but some of the models on the Jenni Kayne website show how the sweater can indeed be worn solo.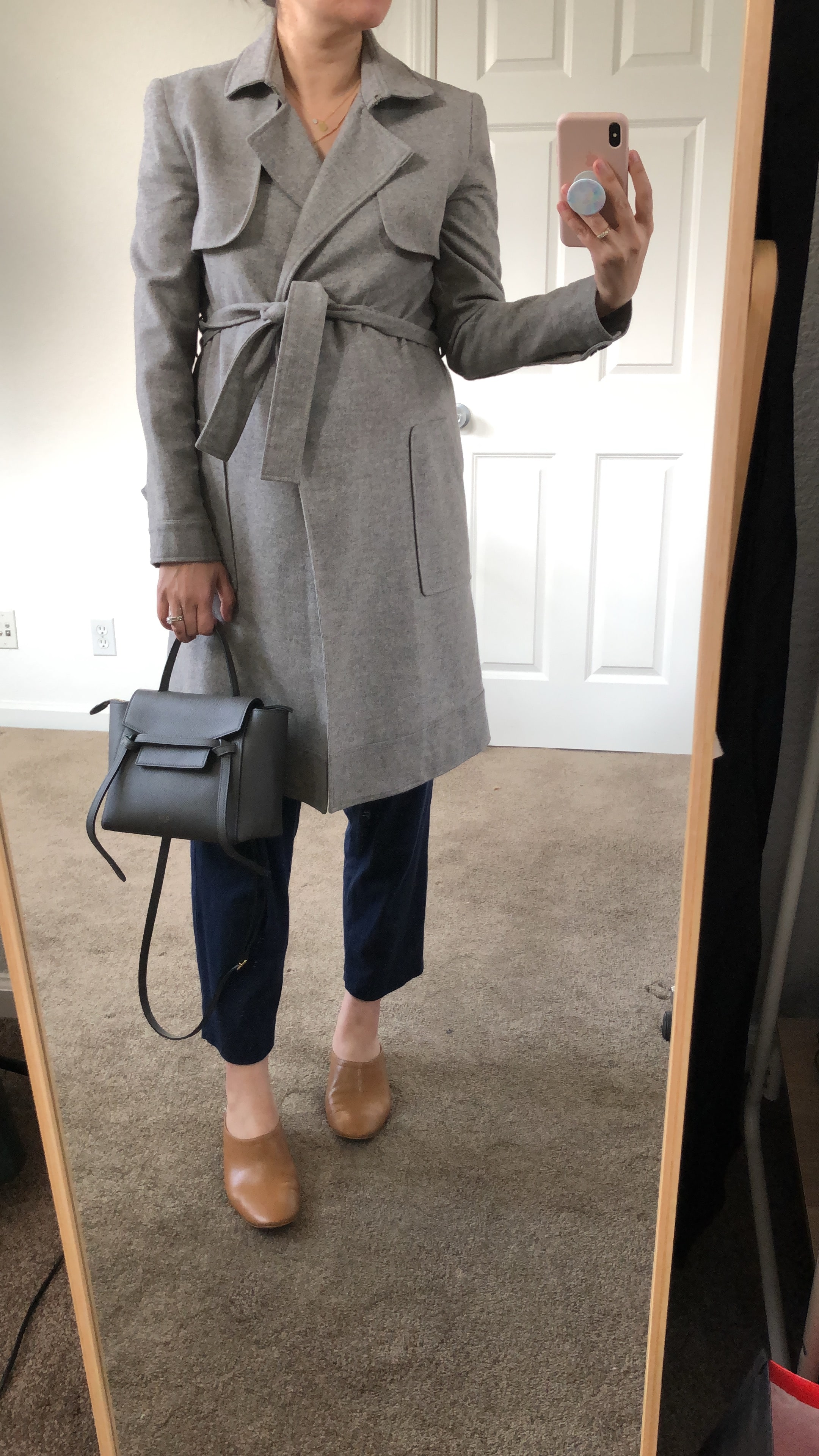 Size + Fit

It falls just below my hips and bum, so it's a great knit for wearing with leggings or loosely over jeans, like I did here. It has a dropped shoulder, and the sleeves fall halfway down my hand. The collar is nice and easy to slip over your head – not tight at all, but also isn't intentionally wide (so you shouldn't be able to see tees layered underneath peeking through). This can be tucked in as well, although I feel it is a little too long around my waist and hips.
Perhaps it's obvious here, but the fit is quite boxy. The Everyday Sweater will be more appealing to those who don't want this style or prefer a traditional fit.
What is the overall size? Stay true to size, unless you're shorter than 5'5". Then I'd consider going down a size or two so that the length and lofty silhouette doesn't drown your frame.
John in Pdp/ Black – P448

sneakers (39) // t-shirt (M) // jeans (28)
I ordered a few new styles of P448 to share with you! I kind of wanted a pair with black accents to wear with black jeans, and these are fun, but that white leather is SUPER white. Very contrasty with the black and grey details of the show.
These shoes have a fun, hot pink sole like my Evereve P448 Jacks, which was quite a surprise.
VERDICT
Shop The Post

As far as what else I am planning to pick up in the coming seasons from Jenni Kayne – shop the pieces I am eyeing below!
Athleta Renew V-Neck Long Sleeve In Dark Sky Violet

t-shirt (M) // joggers (XS) // sneakers (8.5)
This top is cute, but it runs verrrrry small. I'm in the medium here, and it's still quite snug. This top was a favorite in my youth. But, it is too tight around the chest and bulges at my middle.
That said, this color is on sale, plus the 20% off, and it's a really nice top for layering. If you need something like this, I would recommend it, but you probably want to size up.
Airlift Express

"I would like to express my utter disgust at the fact that I placed an order at 6 pm and was advised that…"
Final Thoughts

Jenni Kane continues to be a business committed to sustainability, ethical practices and diversity. They also bring more effortless style to the world.
Jenni Kane Fits True to Size

The brand fits true to size. I wear a medium in every sweater that I own. I would say the exception is items that are billed as oversized. It's best to take a smaller size in items like the popular cocoon cardigan.
The Jenni Kayne Size Guide will help you decide if your size is right for you.
There are two random Allsaints finds

These are actually two of the same items. One for its size, one for the texture.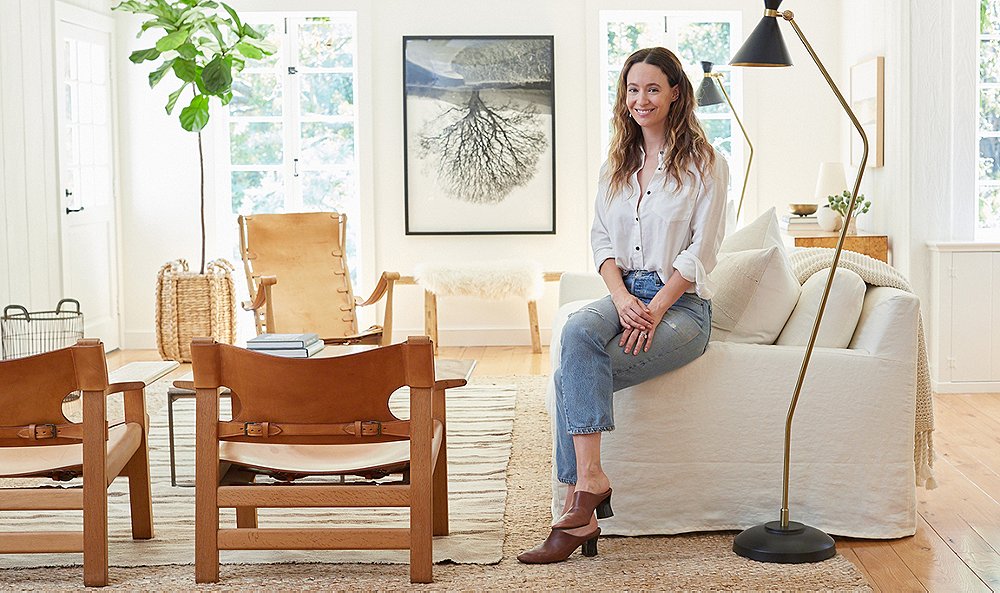 Pro #2: Versatile And Timeless Pieces

(wearing an xs in the Cabin Sweater (fits very oversized, size down 1-2 sizes)
(wearing a small in the Leopard Slip Dress, fits slightly oversized, unless you have a bigger bust I recommend sizing down 1 size)
(wearing the Playa Set in medium – fits larger, I recommend sizing down one size)
Does Jenni Kayne Ship To Canada?

So if you are a fellow Canadian, you will have to pay around $40 CAD (based on the current exchange rate) to ship your order and you'll want to make sure it's exactly what you want because there will be no returning it.
The Leopard T-Shirt Dress in size Small is slightly larger than the normal size. If you prefer a snugger fit, go down a size.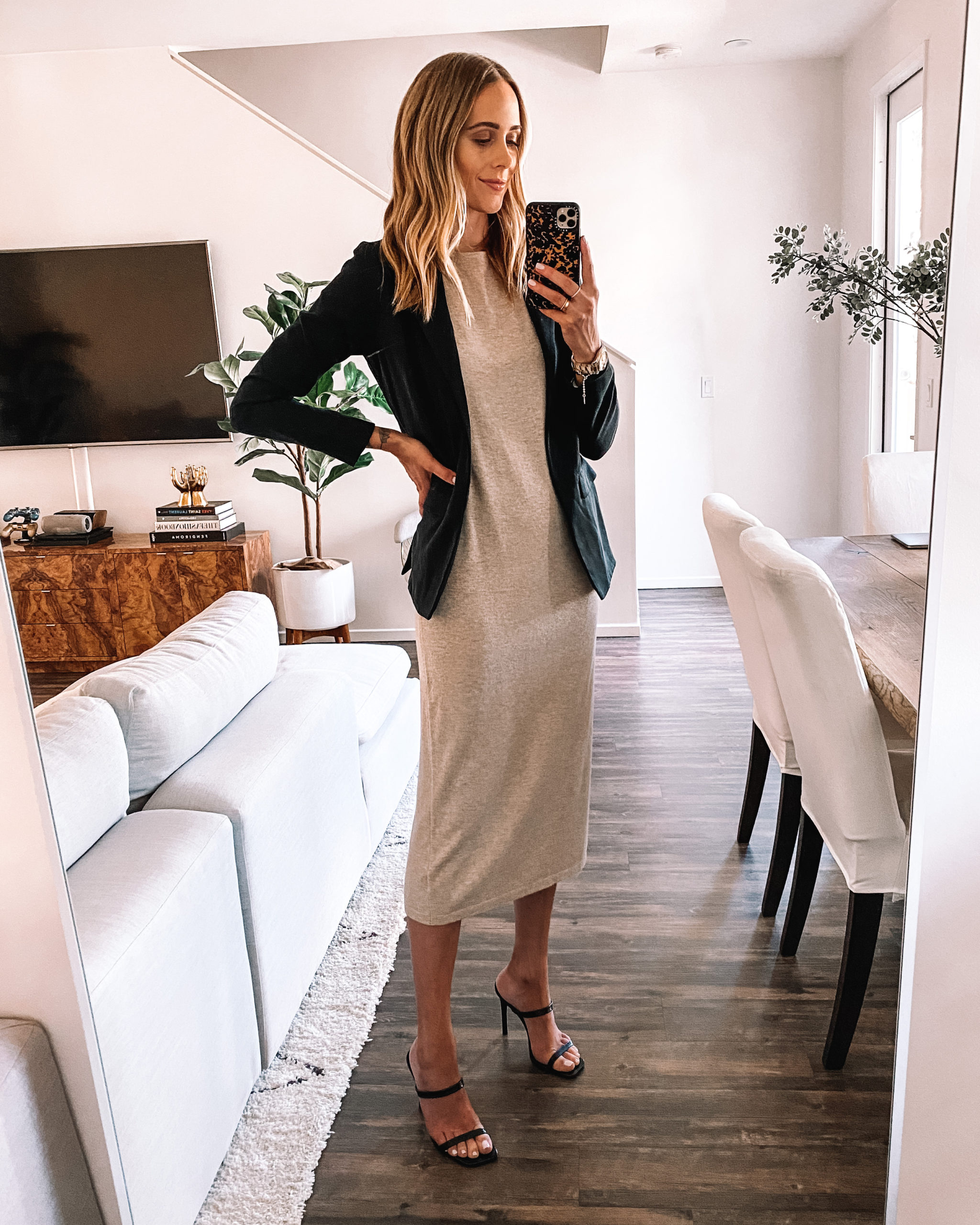 Jenni Kayne Cashmere and Cocoon Cardigan

Another classic Jenni Kane piece is the Cashmere Cocoon Cardigan (445) This cardigan is oversized. It's very large. I am wearing an XS. Again, the cashmere is so soft and not itchy at all so I feel comfortable wearing it against my bare skin. There are many options for this sweater, but I prefer the 100% cashmere one. It's a wonderful sweater to wear at home for extra warmth.
You can find my full review HERE of the Cashmere Cocoon Cardigan!
Jenni Kayne Review
Is Jenni Kayne Worth It?

Overall, the Jenni Kayne pieces are luxurious and high quality, although, you are definitely paying a little extra for the brand name. Their 100% cashmere shoes or pieces are my choice over any other products in the collection. Overall, sizing does run large. If you want your pieces to look like how the models are wearing it in the photos then take your usual size for an oversized look. A size smaller is better if you are looking for a flattering look. Crossover sandals and the Cocoon Cardigan are some of my favorite pieces. My least favorites are the Twill Pants and Merino Sweater (because I feel like you can get these styles at other places). Jenni Kayne's California Lifestyle brand review was a pleasure. Let me know if you have any questions!
Jenni Kayne launched a brand new skincare line recently! You can read my full review of Oak Essentials Line HERE. MORE JENNIKAYNE REVIEWS
The Summer Dress + Leopard Slide Dress + Canvas Slide Sneaker Review Cotton Cocoon Cardigan
It's important to take care of your expensive sweater now. My post is here:
Jenni Kay Everyday Sweater Review

It was the beginning of 2020 that I started to shop a lot. My birthday is in December and with Black Friday sales a week before my birthday, and the little birthday shopping that I do every year, I racked up some great purchases that I've been trying for the past couple months. JenniKayne Everyday Sweater Review: This is the one thing that I wanted to write about. Although I like the Jenni Kayne aesthetic, it can be intimidating to order a sweater online if you aren't sure how it will fit.
I couldn't find any reviews on the fitting for petite curvy persons in all of my internet research. So I ordered two sizes to see if it was right for me. A medium was ordered in taupe, and an extra large in camel. The colors of both the taupe and camel are gorgeous. I love them so much that they will coordinate with everything else in my closet.
My name is Curvy Petite. I normally wear a size m/l in the top, and an extra large on my bottom.
Jenni Kayne Everyday Sweater Fit Comparison

I took several comparison photos so you can see the medium vs. large sizes. Honestly, I wasn't expecting to love both sizes. Both ended up getting kept. Both the large and medium are slightly smaller in both the length and sleeves. The large is roomier and the sleeves are longer. My biggest concern was the length. I had hoped that the larger size would have a longer length. Although it is slightly longer than the large, not much. The sweater I am wearing is technically not a cut, but it definitely has fewer sleeves than some of my other sweaters.
They are both too casual for work. The taupe sweater would be my choice if it was Friday. However, the sleeves are too long for office wear. The only thing that would determine the outcome is whether campus is open for students.
I have been wearing one or both of these sweaters at home, either working from home or on the weekend. It's so soft and comfortable that they are my favorite sweater. They are too short for me to cook in so I make sure I cuff them when I am in the kitchen.
Another thing I want to mention is the fabric's quality. Soft yarn has the tendency to pill, so you definitely want either a sweater shaver or Gleener to de-pill every once in a while. All of my high-quality, soft yarn pills are actually mine. Personaly, my Gleener is available to be used on any of my sweaters.
I really hope this was Jenni Kayne Everyday Sweater review was helpful for any curvy petites out there who are wondering about the sizing! Since I bought them, my Jenni Kayne sweaters are in constant rotation and would be a great purchase.
I'm available to answer any questions.
Blog

It's time to move from conspicuous consumption to conscious consumption, and do reviews. There are many reviews from Everlane and Elizabeth Suzann on this site. My goal is to live a low-waste lifestyle and I love bags. Jenni Kayne Mules Review. They have been a topic of conversation for nearly a year now (I actually first mentioned them in September 2018), and I finally decided to buy Jenni Kayne mules. Are they really necessary? But, I blame the post-surgery pain medication for this one. Maybe it was my "I feel sorry" shopping impulse lol. I didn't mind either way, but I do regret buying them. Tl;dr, I will be returning them. Yes, I'm returning them.
This one feels luxurious on the feet. You like this one? This one? Not so much. Jenni Kayne's version has elastic bands that try to make the mule hug your feet. This is a very cheap option for shoes costing $395. They may feel more luxurious and stretchy than the regular leather versions, but I only have blacks and already own a lot of black mules. Everlane's Boss Mules, which are $84 less than Jenni Kay ones, feel so much more luxurious. But I must mention that my favourite mules of all time are the St. Agni.
These Jenni Kayne mules have no cushion in the insole so it's not something I would recommend for prolonged, strenuous walking. They do run TTS though and the 38 fit me fine.
The mules were disappointing, overall. My wallet however is celebrating. The truth is, you don't know what something will look like unless it actually happens. It can be hard to stop longing for it and just buy it. In general, Jenni Kayne is a great idea. However, my current collection of ethical brands allows me to create more high-quality basics.
Jenni Kayne Products made where?

Because true craftsmanship does not compromise quality, our shoes are made exclusively in Italy. We work with a women's cooperative in Peru for our textiles, because we believe in building up and empowering communities of women.
Jenni Kay is who?

Kayne Anderson Capital Advisors is owned by Richard Kayne, Kayne's dad. Kayne Anderson Capital Advisors is his sole investment.
Jenni Kayne Is a Person?

Jenni Kayne can be described as an American designer. After her first venture into design, in 2003 she established her unique look. Jenni is known for creating clothes with a subtle, yet classic interpretation of American sportswear. These are, in her view, chic, and even more importantly, simple to wear.
Jenni Kayne Sells?

Jenni Kayne's cozy and luxurious designs are a favorite of many.
.Jenni Kayne Review