How To Exchange Diapers​ Walmart Diaper Return Policy 2023
Navigating the Walmart diaper return policy can be crucial for parents and caregivers. Whether you've bought the wrong size or received too many at a baby shower, understanding how to manage diaper returns at Walmart is essential. Here's an in-depth look at Walmart's diaper return policy in 2023, including key aspects for both in-store and online purchases.
Returning Diapers Online At Walmart
Walmart offers the convenience of initiating returns online through their website.
To start a return online, you'll need to set up a profile or log in to your existing Walmart account. Once logged in, locate the old online order and click on "Start A Return" below the order number.
Follow these prompts for the return process:
Select the item you wish to return.
Choose the reason for the return.
Indicate whether you want a refund or a replacement item.
Review and submit your request.
An email confirmation will be sent to you, which includes a claim bar code.
If you need a replacement for an online purchase, it can be shipped to you or picked up at a Walmart store.
Walmart's Diaper Return Guidelines: What You Need to Know
Walmart's policy generally allows unopened diapers to be returned or exchanged within 90 days of purchase. However, it's important to note that opened diapers are ineligible for exchange. For those who have made purchases through the Walmart Online Marketplace, the return window is slightly different, with a 30-day period for returns, subject to the individual vendor's policy.
Walmart's commitment to customer satisfaction is evident in their return policies, which are designed to be as accommodating as possible within certain boundaries.
Exploring Walmart's In-Store Diaper Return Options
If you prefer in-person interactions or immediate resolutions, Walmart's in-store return process is straightforward. Simply head to the customer service desk with the diapers and required documents. It's an efficient way to handle returns or exchanges, especially if you're looking to quickly swap sizes or brands.
Returning Diapers Purchased Online at Walmart
For those who prefer the convenience of online shopping, Walmart offers a seamless process for returning diapers purchased via their website. This method is particularly useful for busy parents or caregivers who might find it challenging to visit a store in person.
Is It Feasible To Return Open Diaper Packs At Walmart?
While Walmart's policy is generally more flexible with unopened diapers, there are specific conditions under which opened diaper packs might be accepted for a return. This is particularly relevant for cases involving product defects or dissatisfaction with the quality.
Procedures for Exchanging Diapers at Walmart
Whether you need a different size or brand, Walmart provides an exchange option. This is particularly useful in cases where babies outgrow their current size faster than anticipated.
Diapers make practical gifts for baby showers, but it's not uncommon to end up with more than needed. Walmart's return policy accommodates these scenarios well.
Utilizing a Gift Receipt for Diaper Returns
If you have a gift receipt for the diapers, returning them becomes even more straightforward. Walmart processes these returns with options like exchanging for a different item, refunding onto a gift card, or crediting back to the original payment method.
In the absence of a gift receipt, Walmart still offers flexible solutions, either exchanging the diapers for a similar item or providing a refund on a gift card.
Step-by-Step Guide to Returning Diapers at Walmart
Whether you're opting for an in-store return or returning by mail, Walmart has established a customer-friendly process. For mail returns, Walmart facilitates shipping via USPS or UPS, providing an approved shipping slip for convenience.
Navigating Online Diaper Returns at Walmart
The online return process on Walmart's website is designed for ease and efficiency. After logging into your account, the system guides you through each step, ensuring a hassle-free return experience.
Understanding Walmart Online Marketplace Returns for Diapers
Purchases made through the Walmart marketplace have their own set of return policies. It's important to be aware of these as they can differ from Walmart's standard return policy, particularly in terms of return windows and refund procedures.
Essential Items for a Smooth Diaper Return at Walmart
When planning to return diapers to Walmart, it's crucial to have all necessary items on hand, including a valid photo ID, the receipt or order number, and the actual product. This preparation ensures a quick and efficient return process.
Diverse Refund Options Available at Walmart
Walmart offers various refund options, catering to different needs and situations. Whether it's an exchange for a similar item or a refund onto a Walmart gift certificate, the policies are designed to provide maximum flexibility.
Diaper Returns Without a Receipt: What You Need to Know
Even without a receipt, Walmart offers options for returning diapers. This part of the policy is particularly beneficial for those who have received diapers as gifts without a receipt.
Detailed Guidelines for Credit/Debit Card Refunds
For purchases made with credit or debit cards, Walmart has specific guidelines to ensure refunds are processed smoothly. Understanding these can help in planning your return and managing expectations regarding the refund timeline.
Walmart Online Marketplace Returns for Diapers

If you purchased the diapers through the Walmart marketplace, you can request a full refund by sending them a message.
Keep in mind that marketplace returns may have different requirements compared to returns for Walmart store purchases. The time limit for returning marketplace products is 30 days.
Furthermore, online refunds for marketplace items must be acknowledged and updated by Walmart within 48 hours in order to process the refund.
Once you file an online complaint with a marketplace vendor, you have three options to return the diapers back to Walmart:
Print the order barcode or return email and take it, along with the diapers, to a Walmart store.
Send the return email with the provided label, pack the diapers securely in a container, and return them through FedEx.
Print the return label from the confirmation email, attach it to a shipping envelope, and schedule a home pick-up with UPS through their online service.
Required Items for Diaper Return at Walmart
When returning your diapers to Walmart, please ensure you bring the following items:
A valid photo identification card.
A receipt or any other item that includes your order number to confirm the purchase.
A debit or credit card for the transaction.
The item you wish to return.
Refund Options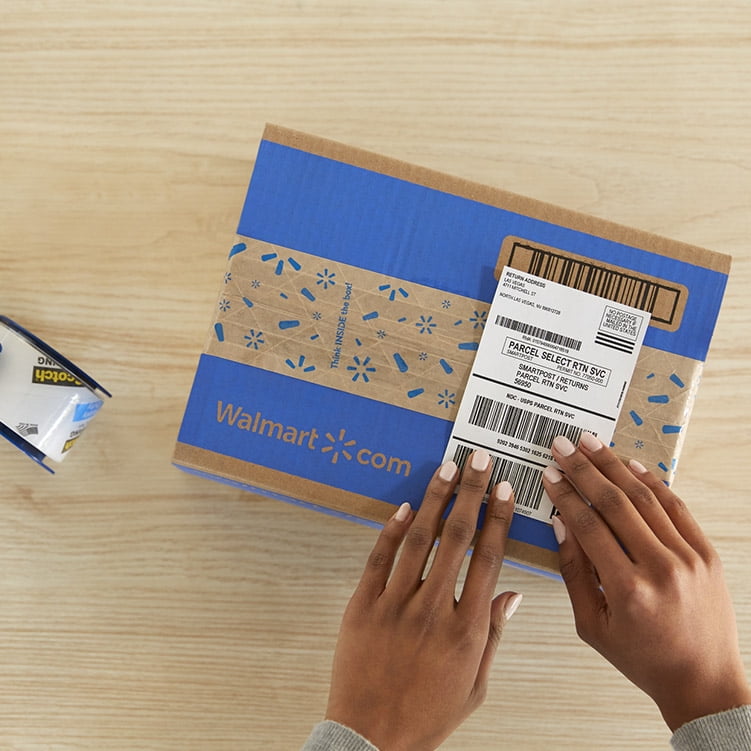 Diaper Return Policy Without a Receipt
Under certain conditions, Walmart allows diaper returns without a receipt. To initiate a return, a valid form of photo identification must be presented. The associate may be able to locate the purchase in Walmart's system using your phone number or credit/debit card number. Once the verification is successful, the refund will be processed. Restocking fees are not charged for diaper returns.
Options for Returns and Refunds
When returning diapers, you have the option to exchange them for a similar item or one of equal value. Diapers valued at $10 or less can be refunded, or you can spend $10 to receive a Walmart gift certificate. The method of purchase determines how you will receive your refund. If you request a refund online or in-store with proof of purchase, the amount will be credited back to your original payment method.
Guidelines for Credit/Debit Card Purchases
For refunds involving credit or debit cards, specific guidelines apply. It may take up to 10 business days for the funds to be credited back to your account. To receive a credit or debit refund, you must present the card used for the purchase. If the card is unavailable, you may receive a Walmart gift card refund. Customers who used a debit card for the purchase are more likely to receive a cash refund. Additional resources are available for more information on related topics such as the manufacturer of Parent's Choice diapers, Walmart's formula return policy, and Walmart's baby registry. Walmart offers a generous policy for diaper returns, allowing unopened diapers to be returned with a receipt and the original payment method. Even in the absence of a receipt or an open container, you may still have the option to exchange the diapers or receive a refund, depending on the circumstances.
Walmart's Diaper Return Policy Summary
| Aspect | Details |
| --- | --- |
| Return Period | 90 days for unopened diaper packs; diapers cannot be exchanged if opened for more than 90 days. For Walmart Online Marketplace orders, the return period is 30 days, subject to vendor discretion. |
| Return Options | In-store or by mail. |
| Return Process | In-store: Visit the customer service desk. By mail: Ship using USPS or UPS with an approved shipping slip. |
| Online Returns | Initiate returns online through the Walmart website. Set up a profile or log in to your Walmart account, select the item, choose reason for return, select refund or replacement, review and submit request. |
| Marketplace Returns | Different requirements apply. Request a full refund by sending a message. |
| Required Items | Valid photo identification, receipt or order number, debit/credit card for transaction, item to be returned. |
| Refund Options | Exchange for similar item, refund for diapers valued at $10 or less, Walmart gift certificate, or credit back to original payment method. |
| Return Without Receipt | Possible under certain conditions. Valid photo identification required. |
| Credit/Debit Card Refunds | Refunds may take up to 10 business days. Present the card used for purchase; otherwise, a Walmart gift card refund may be issued. |
| Accepted Forms of payment | Credit cards, Debit Cards & Cash |
FAQs
Can I exchange unopened diapers without a receipt?
Yes, most stores will allow you to exchange unopened diapers for a different size even without a receipt.
Can I return an opened pack of diapers?
To receive a complete refund or exchange, you typically need to return the opened pack of diapers within 90 days. If you were a fan of this, you might also appreciate banfield prices list
Can I return an opened item to Walmart without a receipt?
Walmart accepts returns for opened items if the packaging is defective, damaged, or lost. However, a receipt is required as proof of purchase. You have 90 days to return the item for a full refund, but certain items like mattresses, DVDs, and video games are not eligible for return.