Proform Studio Bike Pro Review
Why you should trust us

1200+ hours spent reviewing 120+ indoor bikes reviewed 20 data points evaluated per bike The Studio Bike Pro is a mid-priced exercise bike that manages to give you a fair amount of bang for your buck. It's sturdy and includes leveling feet, which are useful when you're really pushing yourself during a hard ride there are 22 levels of resistance especially if it's on uneven flooring.
It combines good engineering with useful tech thanks a series of features like iFit Coach, dual 2" speakers so you can blast your tunes to motivate yourself during a workout, adjustable seating, multi-position handlebars and smooth magnetic resistance.
Additional perks of choosing this bike are listed below. There are some downsides but overall, Studio Bike Pro can keep many riders motivated and challenged for many years.
10″ Touchscreen With Swivel: An indoor cycling system has a 10-inch touchscreen equipped with HD display. It allows for easy access to virtual workouts via streaming. SmartSwivel(tm) Design for the screen lets you watch exercise classes from either side of the bike.
iFit Coaching: One year memberships are included in the purchase of Studio Bike(r) Coach. The membership provides personalized and adaptive coaching. This includes advice on nutrition, exercise, sleeping, sleep, etc. You also have access to customized workouts and virtual classes. You can even feel your trainer on the bike when they increase their resistance or go up a hill.
Audio Port: Connect your device to hear music while pedaling thanks to the two speakers at the bottom of the bike.
Upper Body Exercise: ProForm Studio Bikes make it possible to exercise your entire body all at once. Studio Bike Pro includes 3-lb weights to strengthen your upper body during rides and off-the-bike exercises. A pair of dumbbell holders is attached to the bike.
Proform Studio Bike Pro: Is it worth buying? [A Review]

ProForm's Studio Bike Pro offers folks a significantly more affordable way to access the growing phenomenon that is instructor-led streaming workouts and metric tracking.
Studio Bike Pro comes with a 10" HD touchscreen LCD display. This makes it very easy to choose and view your workouts.
You will also find 22 levels of magnetic resistance and an adjustable seat. Also, you get a pair 3 lb dumbbells. There is also a warranty.
The Studio Bike Pro, while I believe it is an excellent choice for those looking to stream spin classes more affordably, has many flaws.
However, it's possible to find your way around if you know where you're going.
In this review, I'll go over everything this bike has to offer, as well as the areas where there's room for improvement.
You'll be able to make an informed decision about whether this bike is right for you.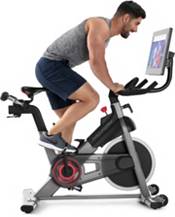 Specifications

This custom rating is based on all aspects of the bike, including specs and warranties. We also have 100s of expert and user reviews to help you save time.
The price suggested for retail is typically more than you will spend with the recommended retailers.
This link will take you to the preferred retailer with the best current price, as prices are subject to change every day. Notice: MSRP is Manufacturer's Recommended Retail Price.
Resistance is created by the flywheel on an exercise bike. To increase the intensity of your workout, you can adjust the resistance.
Type of resistance indicates the type of flywheel being used, if any. If it's provided by the manufacturer, its weight.
Typ refers the type of ride. For example, Recumbent bikes enable you to lie back while Upright bikes make you lean forward.
Proform Studio Bike Pro 22 Review

ProForm's stylish exercise bike has features comparable to those of high-end bikes. However, it is less expensive.
We receive free products to review and may receive commissions on purchases made through our links. Check out our disclosure page. If you are looking for an exercise machine that offers a variety of bonuses, then the ProForm Studio Bike Pro 22 could be the best choice. It brings the studio experience right to your house at an affordable price.
The bike is a better value than its rivals (like the NordicTrack S22i studio cycle ). When it comes to price, you can get nearly all the same features including a year of iFit for free and a large touchscreen screen, but at $500 less. This machine is slightly larger than other indoor bikes due to its 22-inch display screen. As long as space is of no concern to you, we've scavenged up all the other facts you need to know in this review before you decide if you want to snag this piece of equipment for yourself.
Spd-Equipped Pedals

Replaceable universal 9/16" pedals with adjustable and removable toe straps.
Compatible with traditional fitness shoes but not with lipless shoes (unless the pedals are replaced).
ProForm Studio Pro 22 comes with a 197mm Q-Factor size
ProForm Studio Bike Pro 22's universal use pedals allow you to adjust to your favorite riding gear. The universal shape and format of these pedals means they'll fit most size feet and shoe sizes in, and the included toe straps help secure your feet firmly to the pedal. There are toe clips included that will attach almost any shoe. This bike is not explicitly equipped with SPD capability. However, universally accepted SPD pedals can be used on all types of 2-bolt bike levers. The included toe straps are protective and secure so most any bike shoe you try to use could fit, but it would be nice to have double sided SPD compatibility that truly works with any shoe.
ProForm Studio Bike Pro 22 reviews don't include the Q factor. It is something we find disappointing, as many companies publish such information. The Q-factor for this bike was confirmed by their tech team, however. The Q-factor is between a broad and a narrow category at 197mm. It does not necessarily cause a major issue for many users unless you are a pro and have narrow hips (you can search our website and learn more about q-factors and a different article). To avoid unnecessary strain to joints and muscles, narrow q-factors will balance your feet and increase the linear drive from your knees. By setting your legs and feet in such a position to power straight down without bending inward or setting the rider in a wide and unstable position, the ProForm Bike Pro 22 creates the perfect drive mechanism for powerful spinning with very little impact on the body.
Proform Studio Exercise Bike

Proform Studio Bike Limited Review – A
ProForm Exercise Bike Reviews 2020
ProForm TDF Pro Exercise Bike | ProForm
Amazon.com : ProForm Studio Bike Pro
ProForm Studio Review – ExerciseBike
ProForm Studio Bike Pro Exercise Bike
Proform Studio Bike PRO Review MAYBE
Are The Proform Studio Bike Pros Worth it?

Bottom Line: The ProForm Bike Pro is a good buy. You get features like the $2000 Peloton Bike, including magnet digital resistance, subscription training classes and classes as well as a decent sized touchscreen and good bike ergonomics.
What makes Proform a good brand bike?

ProForm bikes come in middle price range when it comes down to features and pricing. These bikes have more features and are heavier than Sunny Health & Fitness's expensive stationary bikes.
Do You Have to Ifit The Proform Studio Bike Pro

Studio Bike Pro 22 (and Studio Bike Pro 22) can be used alone without having to use iFit. Resistance adjustments can be made manually via touchscreen, by pressing one-touch side quick-access adjustment buttons on the console.Jan 15, 2021
Does Proform Studio Bike Pro Have Incline?

Incline Range: Neither exercise bike has the capability to incline. … Studio Bike Pro is equipped with digital resistance levels. With just a push, you can change the level on your bike. The Studio Bike Pro has 22 resistance levels.
.Proform Studio Bike Pro Review