Instant Pot Air Fryer Lid

Instant Pot Air Fryer Lid

If you don't want to buy a completely new Instant Pot, you can now buy a separate air fryer lid and gain the same capabilities that the Duo Crisp comes with! The Instant Pot Air Fryer lid comes with the capability to air fry, broil, bake, roast, reheat, and dehydrate, and it comes with the same air fryer basket and broiling tray as the Duo Crisp. If you're trying to decide between the lid and the Duo Crisp, read on for our complete review and recommendation.
Can I Turn My Instant Pot Into An Air Fryer?

Yes, if you own an Instant Pot Air Fryer cover.
You can air fry your food with the Instant Pot Air Fryer lid.
It was easy to test and I didn't notice any difference in the Instant Pot lid results.
The air fryer lid only fits certain Instant Pot models, so make sure your Instant Pot is compatible with the lid before purchasing.
Similar: Make your meal prep easy with Instant Pot's Air Fryer Gadgets
Do I buy an instant pot or an air fryer?

Many people ask me questions about whether an Instant Pot or an air fryer is better than an Instant Pot.
If you aren't sure if you have either an instant pot or air fryer, you can buy one and add an Instant Pot Lid.
There are so many things you can make with an Instant Pot – I'd definitely purchase that first.
If you appreciated this, you might also enjoy

Breville Air Fryer

An Instant Pot Air Fryer lid is a smart choice if you want to still be able air-fry foods at home.
Related: Is an Air Fryer Right For You?
What Is An Instant Pot Air Fryer Lid?

This lid is made by Instant Pot and converts any 6 quart Pressure Cooker into an Air Fryer. And, it's important to highlight the word compatible here, because not all 6 quart Instant Pot pressure cookers are a good fit. Multicookers with a stainless-steel inner pot are compatible with the lid. Ceramic inner pots (such as Smart WiFI 60, Duo Evo Plus 60 and Duo Evo Plus 60), will not work with the lid.
Only the stainless steel inner pot can withstand high temperatures caused by the heating element on the lid.
Now, if you've already read my Mealthy CrispLid review, you may think the Air Fryer lid is quite similar in features. It is a lid that has a heating element built in. There are differences, however.
The Instant Pot's EvenCrisp technology ensures perfect results each time. Also, the lid has a series of pre-set functions such as Air Fry, Broil, Bake, Roast, Reheat and Dehydrate (not available on the Mealthy product).
Instant Pot Air Fryer Recipes

If you're looking for ideas on what to cook with your Instant Pot Air Fryer, Duo Crisp, Pro Crisp, or Air Fryer Lid, you're in the right place.
There are many tasty food you can cook with your Air Fryer or Duo Crisp! Here are 25 delicious and easy instant pot duo crisp recipes, instant pot air fryer recipes, and instant pot air fryer lid recipes.
This list includes some easy chicken recipes and a variety of tested recipes for beginners. Enjoy~
If this was to your liking, you might also be interested in

Kalorik Air Fryer

Instant Pot Air Fryer Lid Recipes

Okay, so grab this. You can also use any one of the Ninja Foodi easy recipes that emphasize air crispy. You can also make any and all of the easy air fryer recipes we share weekly. It is also handy to add a layer of cheese to any Instant Pot dishes you may be making.
You can make our Instant Pot whole chicken but at the end instead of using your broiler, just turn this on for a few minutes at 400 degrees F.
To make air-fry frozen pork chops, use the included basket.
Different Functions

The decisive moment is here, which is what got everybody curious when we heard the news of the lid's release. It does what?
The lid caters for six cooking functionalities, all positioned on the lid without any need to adjust any functionality directly on the instant pot. You can use the lid to bake, air fry, roast, dehydrate and broil and adjust temperature and time settings. Let's take a look at each function:
Air-fry: Air-frying is a smart way to cut down the use of oils when frying foods with the hot air blowing technique that crisps foods better than deep-frying. This is a great function for crisping veggies, chicken and shrimp. It uses a default temperature range between 300 F to 400 F, and a cooking time range between 1 minute to 1 hour as the recipe calls. Always use the air-fryer basket for this method.
You can bake everything you want with this function, from desserts and casseroles to baking. You can use it as an oven, or you can add a safety accessory such as a springform saucepan. When using the air-fryer basket, make sure to line its inner parts with foil or baking paper before pouring in the batter. On the other hand, if using a safe cake pan, ensure to elevate the pan with a steam rack when cooking. Bake without covering unless the recipe requires it. To affect the function, work between a temperature range of 180 F to 380 F and a cooking time range of 1 minute to 1 hour. The ideal tools to use will be the air fryer basket, broil/dehydrating tray, or a safe-oven baking dish.
Do you have any roast suggestions for this weekend? It will make it easier, quicker, and more efficient to use your lid. This function is excellent for all roast recipes using pork, beef, poultry, vegetables, lamb, and many types of meats. This function creates the ideal crisp crust for meats, and leaves vegetables with a golden brown exterior. For the right cook, activate the Roast mode on the lid and set the temperature and timing between 250 F and 380 F, and 1 minute and 45 minutes respectively. The right accessories to use are the air fryer basket or broil/dehydrating tray.
If this was to your liking, you might also be interested in

Farberware Air Fryer

Dehydrate: When you find a device that can dehydrate fruits, vegetables, and jerky meats the best, you almost want to give your traditional oven away. That's how I feel with the IP air-fryer lid after churning out the best apple and pear crisps that I have ever made. Extracting juices from food is easy when you use a temperature range of 105 F to 160 F and allow cooking for between one hour to 72 hours. You can dehydrate your food using the broil/dehydrating tray or air fryer basket.
Broil: I have tried making French onion soup with the instant pot but always had to introduce a torch to get the right melt and color of gruyere cheese on the soup after the cook. With a few adjustments, it is easy to use the same lid that you used for airfrying. This broil function creates the best direct-to-heating source browning effect on foods like casseroles, Creme Brulee, etc. Enable the broiling function. You can place food directly in an air fryer basket, broiling/dehydrating plate or indirect into the tray. Then choose your desired browning temperature of 180 F to 380 F. Cooking time will vary from 1 minute up to 1 hour.
Heating: All instant pots have the option of keeping food warm once they are done cooking. However, an air fryer lid can be used to reheat crusted and crisp foods. It especially prevents overcooking or over-drying foods, which provides for a temperature range between 120 F to 360 F only and a cooking time range of 1 minute to 1 hour. Reheat foods in the oven by placing them on the safe-oven baking dishes, the broil/dehydrating tray or the air fryer basket.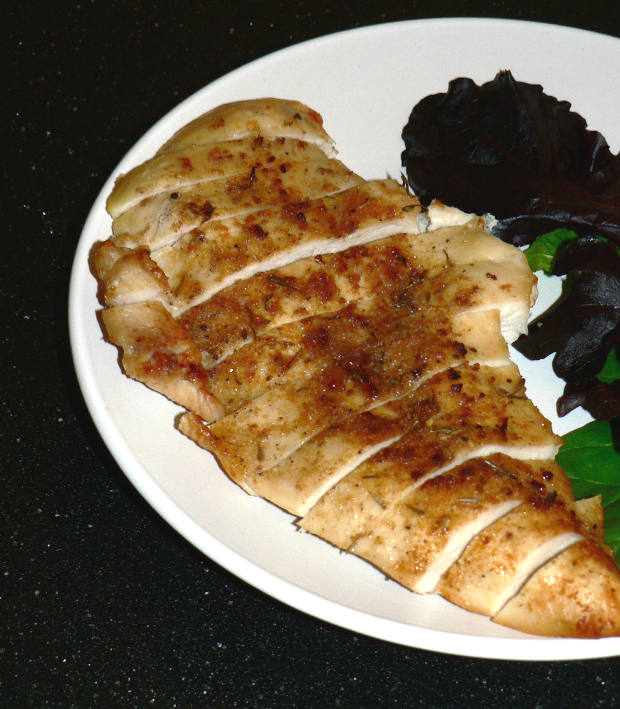 Instant Pot Air Fryer Lid

Get your Pressure Cooker Air Fryer Lid here !
Get your Pressure Cooker Air Fryer Lid here !
Before I shared what it looked like and what it comes with I needed to test it out first. I never share anything unless I'm truly in love with it.
I made air fryer pork chops AND what we will call a rotisserie Crisp Lid chicken too (recipe below) and both came out great. So I thought it would be a good idea to share with you my Mealthy CrispLid Review.
Is The Duo Crisp Air Fryer Lid Worth It?

Yes! Yes! You can pressure cook then air fry at the end for incredibly crispy results.
To make foods such as fried pickles, you can use just the air fryer feature on your air fryer lid. They are healthier than regular fried ones.
The air fryer attachment also helps save space so you don't need space for a whole huge air fryer in your kitchen.
Here are 20 Instant Pot Air Fryer Lid Recipes to get you through the day and test out your amazing air fryer lid!
I made a few Air Fryer favorites with the Duo Crisp

Fried chicken thighs: One air fryer recipe I've become fond of is simple fried chicken thighs. I take two or three thighs, dip them in egg and dredge them in flour. They were prepared using my regular recipe, which I used in the Duo Crisp as well as my Magic Bullet solo air fryer. They were done after 18 minutes. I flipped them halfway through. Although the results were very similar, I had to wait five more minutes for my Instant Pot to heat up.
Fries of sweet potato: Another classic food to air-fry is the sweet potato fries. These fries are usually crispier than deep-fried and have a lower oil content. A sweet potato was cut in half, and I made two batches of fries using the Duo Crisp and my Solo Air Fryer. Both batches emerged from 12 minutes of cooking with about the same amount of caramelization and browning.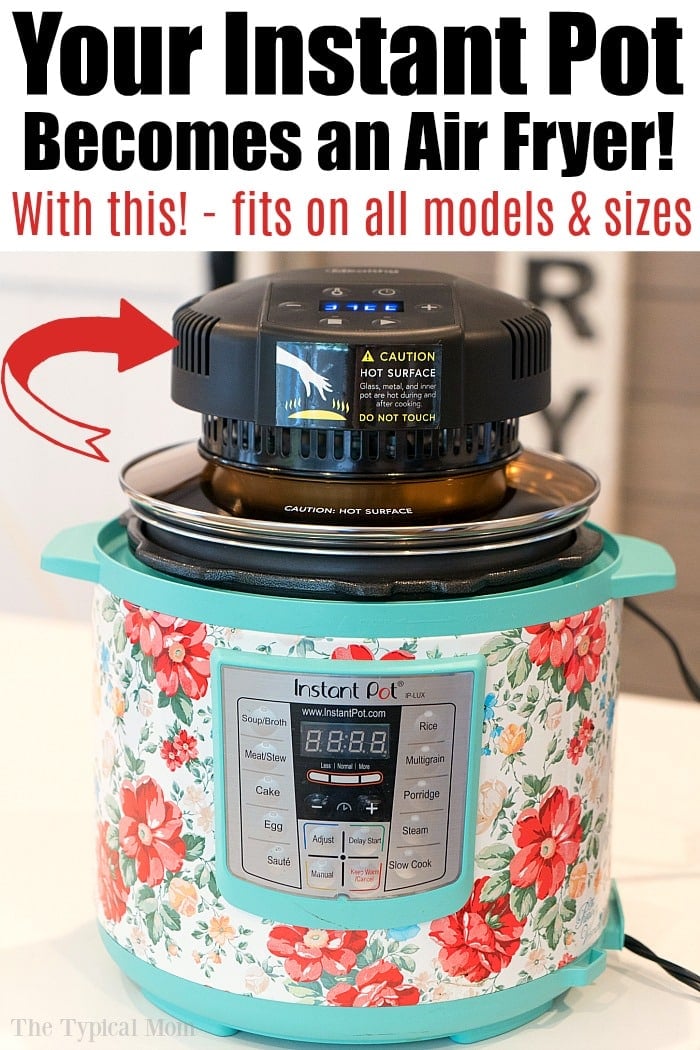 Best Air Fryer Lid Recipes

Here are some tasty air fryer recipes that you can cook using the air fryer lid:
If you have been craving delicious, crispy chicken wings then you will love this quick and easy recipe!
You'll enjoy making carrot fries, no matter if you have an air fryer that is just for you or the lid.
These mini pizzas are made in minutes with the air fryer lid
With no preheating time, you can enjoy air fryer recipes such as this one and have a meal on the table super fast.
Kale chips are healthy and easy to cook. Air frying Kale is simple and you can dip your kale chips into your favorite dipping sauces.
The Air Fryer Function

Although I was concerned that the Instant Pot would not be able circulate as much air as traditional air fryers, the results were amazing! It has been used to prepare chicken nuggets and home fries with excellent results. I also like that it is built to tell you when to flip your food for even cooking.
One word of caution with the air fryer function – I find it to be a little bit less powerful than a traditional air fryer, so when I'm following air fryer recipes I typically add on another 5 or so minutes to achieve the perfect crisp!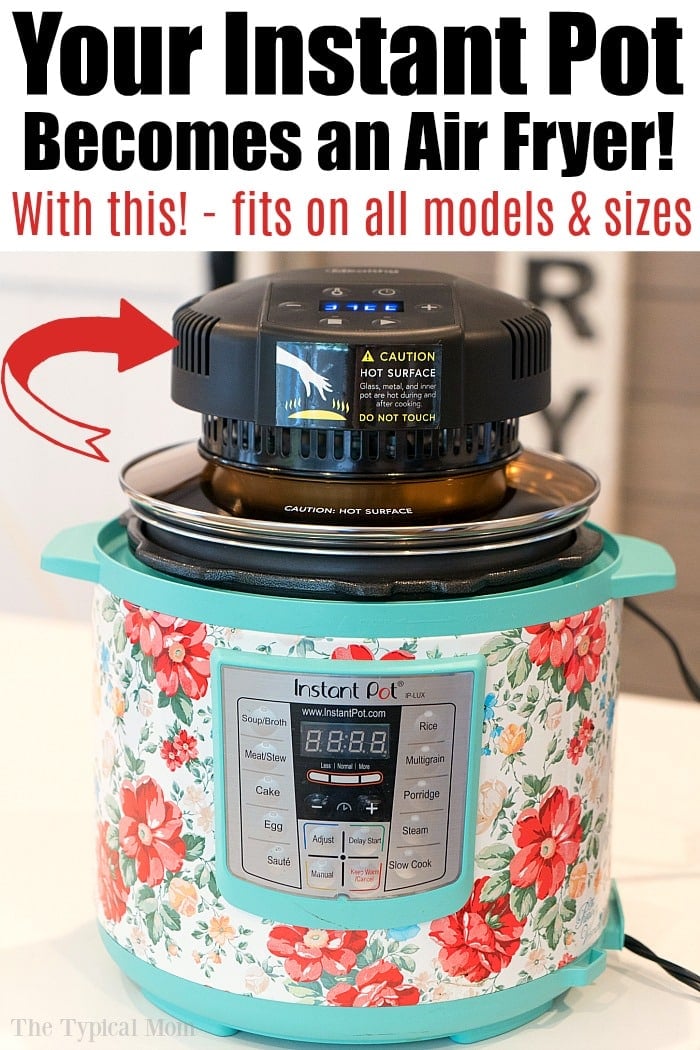 Why You Will Love The Crisplid Pressure Cooker/Air Fryer Lid

I love that the Mealthy CrispLid has a glass lid, so you can see how brown your food is getting–without lifting the lid.
The CrispLid air fryer comes with a 3-inch tall metal trivet, a mesh air frying basket, short stainless steel tongs, and a silicone trivet, so you can get started right away! It's a great item to own, as the air fryer can get very hot after being used.
The CrispLid design is really cool! The two steps on the stainless steel rim are what allows it to fit both 6-quart and 8-quart pressure cookers.
The CrispLid does get really hot on the bottom and you should always use caution when removing it. It is well designed so that the handle stays cool, and your fingers are away from any heating elements.
Your CrispLid will automatically remember your previous time and temperature settings the next time you use it.