Used Acceptable Amazon
Used – Acceptable

If an item shows signs of wear including scratches, dents, and other aesthetic problems, we will assign the condition of "acceptable." It's possible the packaging has been replaced to better protect the item, manuals may be missing, and the item may contain third-party attachments.
I have ordered several items this way. Each item that I received was brand new and in excellent condition.
Only once did I have an issue with a purchase of a high-chair. The tray did not slide smoothly despite the chair appearing brand new (it still had labeling stickers on it and was not used).
I am guessing the tray issue was a manufacturer issue, so it was still considered a new item just open box.
Because of the sticky tray, I returned the high-chair. It was simple. I just printed my return label and arranged for UPS to pick it up since it was a large item.
All of this was free with my Prime membership. Even though the purchase didn't work out, you don't have to pay anything if you score this item.
Amazon Condition Guidelines: New, Used And Everything In Between

Amazon's marketplace is growing at an incredible rate. Many sellers focus purely on new items. Amazon's FBA and FBM program has enabled thousands to profit from the enormous potential that the retailer offers.
Sometimes it can be hard to remember that Amazon continues to cater to the second-hand market. Virtually anyone has the capacity to sell on Amazon, and items such as second-hand books and games are still thriving.
Statista's research shows that most people buy at least part of their books used, with younger generations continuing to follow this trend.
This young woman shares her secrets for making an Amazon supplementary income.
You must accurately list the item's condition if you wish to sell it on the Marketplace. Failure to do so can lead to bad reviews and negatively impact your seller account health.
This guide will explain the meaning of each Amazon Condition. It is designed to assist you in finding the right condition description for your product, and to ensure that it's listed correctly and in compliance.

Books

Amazon has its own specific guidelines for books, both used books and collectibles. If you are going to sell a first edition of a book then it is imperative that you don't misdescribe it in your listing.
To be listed as collectible, "a book should be unique in a way that could reasonably be assumed to increase the book's value to a collector such as first editions and first printings; signed, inscribed or scarce copies."
If you are listing in the collectible category then you need to carefully check that the product fits the descriptions listed on Amazon's seller guidelines:
For all other books, you can use the following guidelines. Keep in mind that these are designed to be in addition to the generic guidelines for Amazon condition.
Renewed:

A pre-owned product that was inspected and tested to work and look like new by an Amazon-qualified supplier (a seller or vendor) or by Amazon. The product has minimal to no signs of wear, no visible cosmetic imperfections when held 12 inches away, and may arrive in a brown or white box with relevant accessories that may be generic. If the product doesn't work, you can get a refund or replacement within 90 days. A selection of products are eligible for the Amazon Renewed Guarantee. Any exceptions to this condition description will be mentioned on the product detail page.
Unacceptable And Prohibited Items

Items in any of the following conditions are unacceptable for listing on Amazon:
Item does not work perfectly in every regard.
Item is not clean, including signs of mould, heavy staining, or corrosion.
The item is broken in such a way as to make it impossible for you to use.
The item is missing any necessary accompanying materials or parts. (This does not necessarily include instructions.)
Item requires repair or service.
Item was not created by the original manufacturer or copyright holder. These include copies, imitations, duplicates and counterfeits.
Item was originally distributed as a promotional copy, promotional bundle, product sample, or advance reading copy. This includes uncorrected proofs of in-print or not-yet-published books.
Markings, stickers or any other damage can obscure or make it impossible to see or read.
Item has passed the expiration date (includes "best by" and "sell by" dates), has an unacceptable portion of its shelf life remaining, or has had the expiration date removed or tampered with.
The item was not intended to be sold or destroyed.
Item is prohibited for sale on Amazon.
For more information about prohibited products, see Restricted Products.
Only full retail versions of software may be sold on Amazon. Software & Computer Games has a complete list of prohibited software products from Amazon.
These category-specific guidelines for condition should be followed in lieu of or in addition to the general guidelines.
Are Smartphones Included In The Amazon 30-Day Return Policy?

Yes, any item offered by Amazon as a Warehouse Deal is covered by their 30-day return policy. You have time to inspect your order and ensure that there is not more damage than what was stated on the product page. If you're not satisfied with the item, you have two options: keep it or return it. The date by which you need to return it will be marked on the email you received confirming your order. You can view the details of your order in Amazon's online account if you have deleted the email. Smartphones are included in this generous return policy. However, you should check that all the phone's functions work properly as soon as you can. If the phone becomes defective after thirty days, you won't get a return.
Amazon Warehouse Deals come with a warranty? What'S The Return Policy?

Amazon Warehouse's best feature is its ability to be returned and serviced by Amazon. That means that if you're unhappy with a product for any reason – whether it's more damaged than you expected or it's simply not quite what you wanted – you have 30 days to return it for a full refund.
Amazon Warehouse products come with a 1-year guarantee. You can return any item purchased via Amazon Warehouse if it becomes damaged or defective within the 1-year warranty period. See Amazon's Warranty Repairs policy for more details.
Because every Warehouse product is also fulfilled by Amazon, they're all eligible for next-day delivery with Amazon Prime too, which is always a nice touch. For more information on Amazon Prime, see our guide.
Why Are Amazon Warehouse Prices So Low?

Amazon offers a huge selection of goods to buy online with competitive prices, and a no-quibble 30-day return policy. They have large fulfilment centers (or warehouses) that ship goods, and check and resell the returned items. Online retailers have a high rate of returns because customers can only view a photo of the goods before buying. This is not as real-life experience of handling items prior to making a purchase. Many customers decide to return the purchase after changing their mind.
If the packaging remains intact, some of the goods may be added to the main stock. Many items can only be sold as used if their wrapper was opened for inspection. Amazon Warehouse Deals offer huge savings over buying new. A package that has suffered damage in transit could be another example.
What Do Different Amazon Grades Really Mean?

Amazon assigns five grades to the items it sells. These are the five grades that Amazon assigns to items it resells. Below is a brief explanation of each.
Renewed: This is the highest grade an Amazon Warehouse item can receive and is on par with what other companies might call "refurbished." These items are thoroughly inspected, tested, and guaranteed to work and look like new for a period of 90 days. The "refreshed" Roku Express Plus we once ordered had never even been opened.
Used, Very Good: The item has been lightly used, with minor visible indications of wear and tear, but is otherwise in good working order. The packaging might have been damaged or repackaged. Any missing accessories will be mentioned in the listing.
Useful, acceptable: Good condition, still functional. Packaging issues, major cosmetic imperfections, and/or missing parts or accessories are all possible. I got an Echo Dot for $23 that was considered Acceptable. The power port has a small scratch, however it is hard to see from a nightstand. It was half the price.
What'S The Catch?

Amazon Warehouse sells items at solid discounts, but it has pros and cons. Many items do not come with a warranty. However, since Amazon owns and operates the Warehouse, items come with the retail giant's standard 30-day return policy. Once you receive a product, examine it closely to make sure it's in satisfactory condition. Likewise, pay careful attention to how Amazon grades the goods.
A "used as new" item will likely have minor damage to its box, or cosmetic problems. An "used acceptable" item might be missing pieces or not packaged. It's up to you whether or not the cost savings are worth it. To play it safe, look for items where damage is irrelevant to performance. Miss Muffet's Revenge Spider Killer spray, which is appropriately named, can be purchased at a discount of around eight percent from the original price. This is an excellent buy, even if you don't care much about the look of your jug.
Amazon Warehouse Deals Can Be Used For Just About Anything

If you go to Amazon looking for a product you are interested in, you can search the Amazon site just as you would normally. You can check if there are Warehouse Deals versions available on any Amazon listing.
First, pull up the item you want to buy just as you normally would on Amazon, but don't add it to your cart just yet. Scroll down the page and keep your eyes peeled for words like "New & Used," "Buy Used," "New & Used Offers" or just plain "Used," which you should see on the right side of the website.
Usually there'll be a price listed, too, representing the cheapest option available (but not including tax or shipping costs). You can use the "find" function of your browser (usually Command-F for Macs or Control-F for Windows) to search these keywords if you have trouble finding it.
How Amazon Classifies Used Products

When an item comes back to Amazon, it gets processed through a program called Amazon Warehouse. The process includes inspecting and packing the items, as well as determining if they can be resold and what condition. With Amazon Warehouse, products get categorized as follows:
Renew
Used – Like New
Excellent Condition – Used
Excellent – Used
Used – Acceptable
Below is a link that will take you to Amazon's descriptions of the conditions. Let me explain it for you.
Let's start with the Used – Like New. It is your best bet. It typically means the original packaging is damaged or has been replaced, but the item is pristine. The situation is often as simple as a previous customer opened the item and then changed their mind. If you have ever had to return a product, you may be in the same situation. The item is returned, and it's perfect. However, the packaging was damaged. A smart shopper will not want to have to deal with "New" pricing and get a torn-open package. However, a bit of tape or some replacement boxes can make the item returnable into a fantastic Like New bargain.
My deeply discounted gym shoes were like that. Perhaps the previous customer tried them on and didn't like the fit. No big deal, right? To be classified as Like New, those shoes are expected to be in perfect condition (and they were). Not "Oh there's a bit of dirt or a scuff on them…" Not "Oh they look like they've been worn to a workout…" Not "Oh there's a smell…" Perfect.
Used – Very Good items are almost perfect, but they might have very minor signs of use. Sometimes they may be missing an accessory. This is where the emphasis should be on "very minor". While the product isn't pristine, there are no major blemishes because anything significant gets downgraded to Good or Acceptable. This level can offer a great deal of value, but you may not notice the defects unless you are actively searching for them.
Use – Good, Acceptable, and Used – Acceptable products show wear that is more severe or missing components. Acceptable is the lowest level. These tiers are not for everyone. Although cosmetic or missing components can make me uncomfortable, the prices at these tiers may prove to be quite attractive. And hey, sometimes the cosmetic damage is unimportant. An "Acceptable", but not an "Acceptable", gym weight would be my choice. But, I wouldn't buy an "Acceptable", frying pan. A "Good" book might be just fine, too!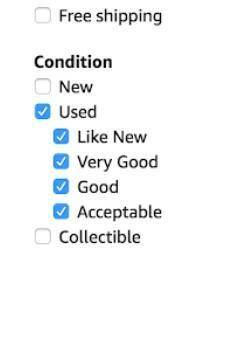 Listing By Category

It is important to know before you list your product for sale that the condition can alter based on which category you are listing your product within.
Amazon offers both a general set of guidelines and specific guidelines regarding items like books.
Seven categories are used to describe your product in the guidelines, or general products.
Neue
Renewed
Rental
Excellent Condition – Used
Let's delve into what those mean in broad terms. It is better to over-promise than list your item if in doubt. If you think your product is in good condition, someone else might disagree. Luckily, there are descriptions to help you out on the Amazon site. Below is a simplified version.
New. It is a new product. This item must include its original packaging.
Renewed. A renewed item is one that has been tested by an Amazon-qualified supplier. The item must be held 12 inches from your face and show no wear. You don't have to keep the box, but you must have it checked by a quality-controlled supplier to qualify for the Amazon Renewed Guarantee.
Rental. Rental.
Used – Very Good. This doesn't have to have the original packaging or all of the accessories, though sellers should describe if they aren't included. Limited signs of wear are acceptable.
Can You Return Used Acceptable Items On Amazon?

Amazon offers a 30-day return policy for most items. This also applies to acceptable used products.
Most used and open-box items purchased from Amazon Warehouse that were shipped by Amazon may be returned within 30 calendar days.
This means you could try a used acceptable item and send it back to Amazon for a refund if you decide it doesn't work for you.
As with all Amazon orders, however, it is important to remember that different products come with different returns policies. These apply both for new and old products.
You can check the return policy under the product listing or within your Amazon orders to confirm how long you have to return used items.
Even for items that were sold to you under a different condition category, it's possible they will wind up listed under used acceptable on Amazon if you return them.
To find out more about Amazon, you can also read our posts on Amazon warehouse deals, Amazon cell phone return policy, and Amazon return policy after 30 days.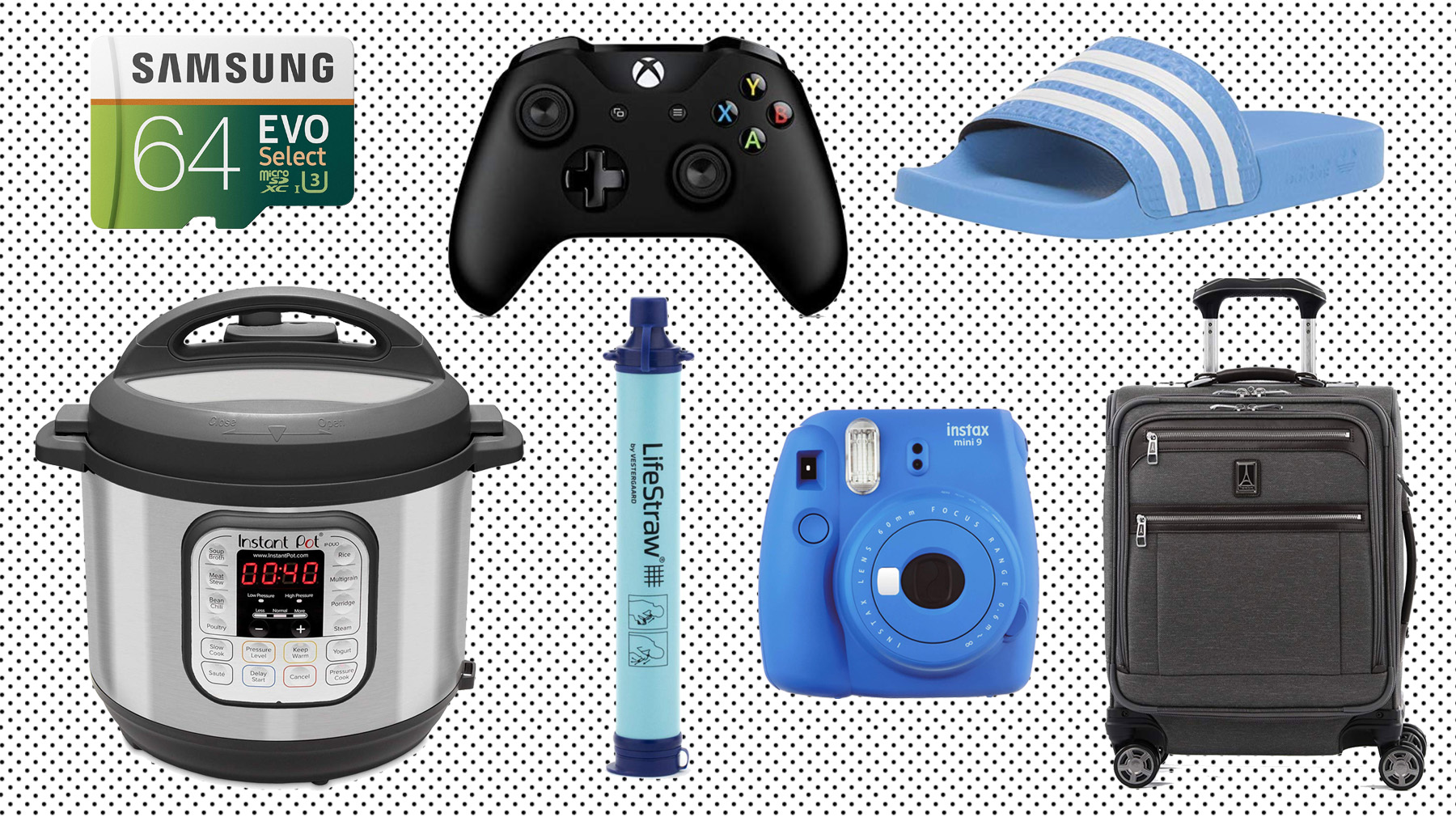 What is the best way to tell if an item is in good condition on Amazon Warehouse?

Amazon rates its warehouse deals into one of five quality categories:
Renew
Used, but like new
Used – Very Good
Used – Good
Acceptable if Used
Be aware that these descriptors are only as good as the human who inspected them. Their "goodness" might be considered unacceptable by me. However, my "very good" may seem "like new." I find it is more useful to read and take note of the accompanying detailed description of the item's defects. Remember, you get what you pay for. Unless you want to be regularly disappointed, I recommend you only buy warehouse deals that are marked as "Used – Very Good" or "Used – Like New" and always read the description.
Are Amazon Warehouse Deals Covered by a Manufacturer's Warranty?

No, used products generally don't come with a manufacturer's warranty. All Amazon Warehouse Deals come with a standard 30-day return policy. For Renewed products, this policy is extended to 90 days.
Used – Acceptable:

The item is fairly worn but continues to function properly. Item may arrive with damaged packaging or be repackaged. You may notice signs of wear such as scratches and dents. The item may have identifying markings on it or show other signs of previous use. The item may have missing parts, such as screws in the case furniture or mouse cables or USB cables for a laptop.
How To Search For Open Box Items On Amazon

Click on the "other sellers" link and this will take you to other options.
If an Warehouse Deal is available it will show up here and you can select it. It will let you know if Prime Shipping is available.
For other options, you will be able to see "Open Box – Like New" or any other description.
You can also search Amazon Warehouse Deals by going to the shop front and doing a search on what you're interested in.

Used Acceptable Amazon:

Amazon has several unusual scenarios. Products are listed underneath, starting from new to used appropriate, allocated for devices with the most traces of the previous usage. You might find broken packaging, cosmetic defects such as scratches or missing accessories. If one doesn't mind some wear and tear, Amazon's used appropriate items may be an excellent price.
Amazon Warehouse Black Friday Deals

Amazon Warehouse Deals are 20% off every year during the Amazon Black Friday Sale. You can also get additional discounts if you're a Prime member. About twice a year, Amazon offers an extra 20% discount to Prime members on all goods sold directly by Amazon including their Warehouse Deals. If you are able to time the right thing, an excellent buy can become exceptional.
Why Do I Not Need To Return My Item To Amazon?

How does Amazon refund items without return? The company's Conditions of Use states that Amazon doesn't take title to returned items until it arrives at their fulfillment center. A refund could be granted without needing a return, but this is decided solely at Amazon's discretion.
Amazon allows you to return accepted items.

Can You Return Used Acceptable Items On Amazon? Amazon's 30-day return policy on most products extends to used acceptable items, too. Most products that are used and open-box can be returned to Amazon Warehouse within 30 days.
If you're not loyal to one brand, then you won't find the best deals

Whenever that happens, just return the item like you would any defective product, then order another one. It's more work, sure, but it is worth it considering how many thousands, if not hundreds of, we have saved by doing this over the years.
You might find some items missing or damaged parts or instructions. Amazon will report any damages to your product and packaging along with any missing elements.
Difference Between Buying Used And Buying A Warehouse Deal

Make sure you check the Amazon Warehouse Deals listing for the item that interests you.
These deals should not be confused with any other second-hand or used items that are sold on the marketplace.
Marketplace sellers use their own definitions of an item's condition, and they also don't offer Amazon's no-quibble return guarantee of satisfaction.
Can I Sell Used Items On Amazon India?

Amazon launched the "Sell as Individual" service in India. This allows users to sell used products. It is currently in operation in Bangalore.
Used Acceptable Amazon (Meaning, Is It Any Good + More)
Amazon sells millions each day. However, not all the items sold by Amazon are new. Amazon offers a wide range of used goods, making it easy to stockpile pre-owned products at an affordable cost.
If you like me and are an avid internet shopper, you might wonder what the used acceptable means on Amazon. This was something I wanted to find out too.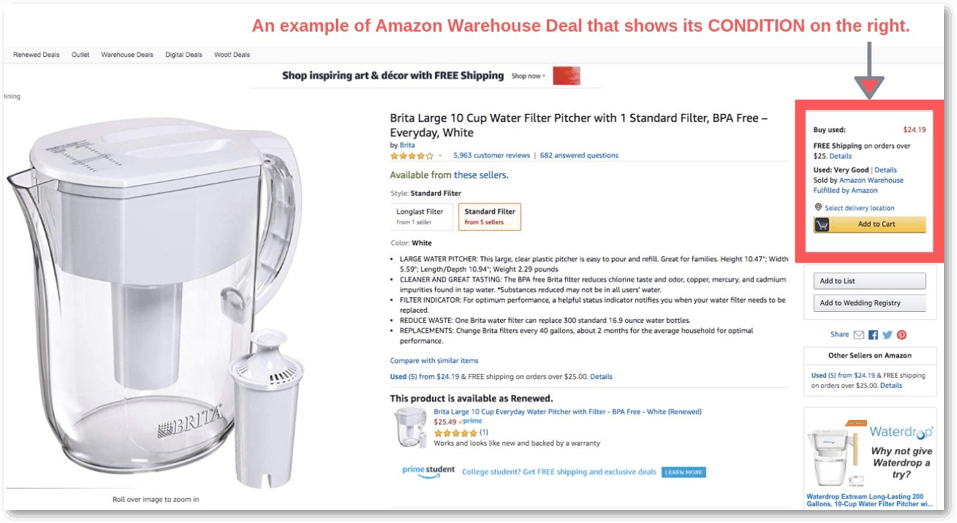 What is Used Acceptable Amazon in 2022?

Amazon lists products under a number of different conditions. They range from new and acceptable to unacceptable. This is reserved for items showing signs or previous use. You may find damaged packaging or aesthetic imperfections like scratches and missing accessories. Amazon sells acceptable items used by others for a bargain price if they aren't damaged or show signs of wear.
You can read the full guide to learn more about Amazon acceptable uses and whether it is any good.
Amazon Accepts What Products?

Marketplace and Amazon Warehouse sell a variety of used goods. Each product is subject to a quality review that verifies its condition.
It applies to everything, from books and electronics to discounted electronic goods through Warehouse Deals. Amazon lists the returned items in order to give them another chance.
The following conditions can be assigned to products: used, new, renewed or rental, used like new or open-box, used very good, used–good and used-acceptable.
Good quality products are worn and functional, even if they have cosmetic issues such as dents or scratches.
You may find signs of use, damaged packaging, or an unused box. While Amazon doesn't sell broken items, the used acceptable category may be missing small components and accessories, like screws for furniture or cables for laptops.
Amazon's Acceptable Used Goods Are Any Goods?

Although many people consider the Amazon used acceptable category to be fine, this depends on how high you place on product quality.
The main thing to remember about Amazon's used acceptable items is that damaged packaging or product surfaces are normal.
You might also lose instructions, assembly tools or small parts. There is an element of DIY, which can be a problem when shopping online for brand new products.
Amazon's lowest-quality product is used acceptable. Keep that in mind when shopping.
Don't settle for acceptable quality products. Instead, look at very high-quality or similar new products.
However, it is possible to save money by not being too concerned about the product's appearance. Rather, focus on how it works. Then, it could be worthwhile.
Are Amazon's Used Acceptable Products Cheap?

Amazon lists the most affordable pre-owned products under acceptable.
While the price of an item can vary greatly depending on its condition, many people are able to get huge discounts, which often range from 20% to 50%.
Amazon's acceptable products can be a cost-friendly choice if you are looking to stockpile household items but not break the bank.
Any eligible item can be viewed as a used offer just below the regular price. You can compare the product quality and determine how much you are willing to pay for a particular item.
Although there isn't a lot of difference in the price of acceptable used goods, new items on Amazon will always be more expensive than acceptable pre-loved merchandise.
Books are an excellent place to begin if you're buying your first Amazon used item.
You will be able to easily identify how much less used, acceptable books are than premium and well-kept new versions.
Used Acceptable Amazon (Meaning, Is It Any Good + More)