Microwave Air Fryer Combo

So Why The Panasonic Homechef 4-In-1 Is The Best All-Around Microwave Air Fryer Combo?

Panasonic and the app fresco have teamed up to create a partnership that allows you to download custom-made recipes for any kitchen appliance.
Baking is my passion. Caramelized roasted meat and vegetables are my favourite way to make Sunday lunch. However, it is often difficult to find the time or the patience to cook the entire meal. That is where the Panasonic HomeChef 4-in1 comes in handy considering you can set up higher temperatures to 425 Fahrenheit, and your cooking time will be reduced. There are two settings available: baking or roasting.
Broil and microwave functions can be used to quickly defrost and heat your food. It comes with 20 preset functions.
Panasonic HomeChef, a 4-in-1 microwave oven, can defrost and reheat food quickly, prepare it, heat it, then cook and serve. The sleek stainless design looks very aesthetic and also guarantees you the easiest cleaning. The only downside is that the buttons do not have any backlight, so you might have a bit of a hard time reading them.
This air fryer is also on top of our list and it only has a slight disadvantage to the HomeChef 4-in-1. The price is also much lower. It has everything you need to cook your food perfectly every single time. You will be able to improve your cooking skills with the powerful 1000W SpeedWave technology.
What impressed me the most is the TotalFry 360 convection technology that allows heated air to circulate throughout the oven and cooks your food evenly. Direct heat means you can quickly reheat, bake, or fry your food without worrying about hot spots. Even delicate food ingredients that tend to become dry, like seafood, fish, and chicken wings, will be cooked perfectly.
The oven has a 1.6 cubic feet capacity, and it also features combi-speed cooking, which brings the best out of the microwave's intense heat and speed. The oven comes with an easy-to-use timer and a humidity sensor. This will make sure your food is cooked perfectly every time.
The program comes preprogrammed and includes 10 presets. Besides the regular defrost, air fry, and bake option, you can opt for popcorn, sensor cook, or a combination of microwave and convection oven that you can use separately. The oven is made from stainless steel that is easy to clean and gives an overall stylish yet very simple look.
However, there are a few things that I need to point out; first, the size and weight of this appliance. This product isn't suitable for those with limited space. It is heavy and large. The other thing that I do not like is that the glass on the door is too dark, so you can't sneak a peek inside during the cooking process, and we all agree that is a big no-no.
The name says it all. Behold the 7-in-1 kitchen miracle. This appliance is capable of doing everything. There are 25 cooking choices available, 10 of them being air-frying options. This will allow you to create delicious and healthy dishes quickly. The downside is that air frying requires you to heat the oven. This can be time-consuming.
This oven can be used as a microwave, with 6 presets and 11 defrost options. The convection oven is my favorite; you can use it to bake and broil your food until it gets perfectly crispy and charred flavored. Believe me, even the baked goods that need to rise like muffins and cakes won't fail you down in this oven.
But what makes this oven special is 4 low-temperature settings for dehydrating fruits and vegetables! You can now enjoy healthy chips and binge-watch your favourite shows guilt-free. Yet this is not all; you can also ferment ingredients like yogurt, kefir, and dough in it. To be honest, is there anything else you need from this handy kitchen appliance?
It all fits in an extremely compact package. The oven's capacity is only about 0.9 cubic feet. This oven is 1400W, however, you have 10 power options to choose from. This appliance has an eco-setting, which reduces the amount of energy it uses when not being used.
If you appreciated this, you might also enjoy

Cosori Air Fryer

No matter what kitchen design you choose, the black stainless steel will match perfectly. It doesn't have a keypad, which can be both a positive and negative thing. The overall design is very simple, but scrolling through the 25 presets can take some time.
Pros:
This little oven is perfect for all those who need a powerful kitchen appliance but they simply do not have enough space. Cuisinart's microwave oven is small but packs so much power. You can get 11 power levels, boosted with a 1500W heater. It's not bad.
Just like all other products from this list, this one also is a combination of three appliances in one; microwave, air fryer, and convection oven making it ideal for multiple purposes. What I love about this product is the smart technology that makes this kitchen appliance easy to use.
The fan is specially designed to ensure that food cooks evenly and doesn't get burned. The second great thing is that it also comes equipped with a defrost setting that calculates the exact time it will need to defrost your frozen meal according to the weight. There are six preset microwave presets and three preset air fryers.
Two of my favorite presets include potato reset which turns your fries crispy and golden every time. Also, a preset for the right temperature coffee. The only downside is the size since the 0.6 cubic capacity is enough for 1 to 2 people.
If this was up your alley, you might appreciate

Small Air Fryer

Both the stainless steel exterior and interior are simple to clean. They will also not absorb cooking smells or odors. Also a sleek touchpad control panel with a LED display allows you straightforward control.
The downside is that it only serves 1- 2 persons, but the appliance is much larger than a smaller air fryer.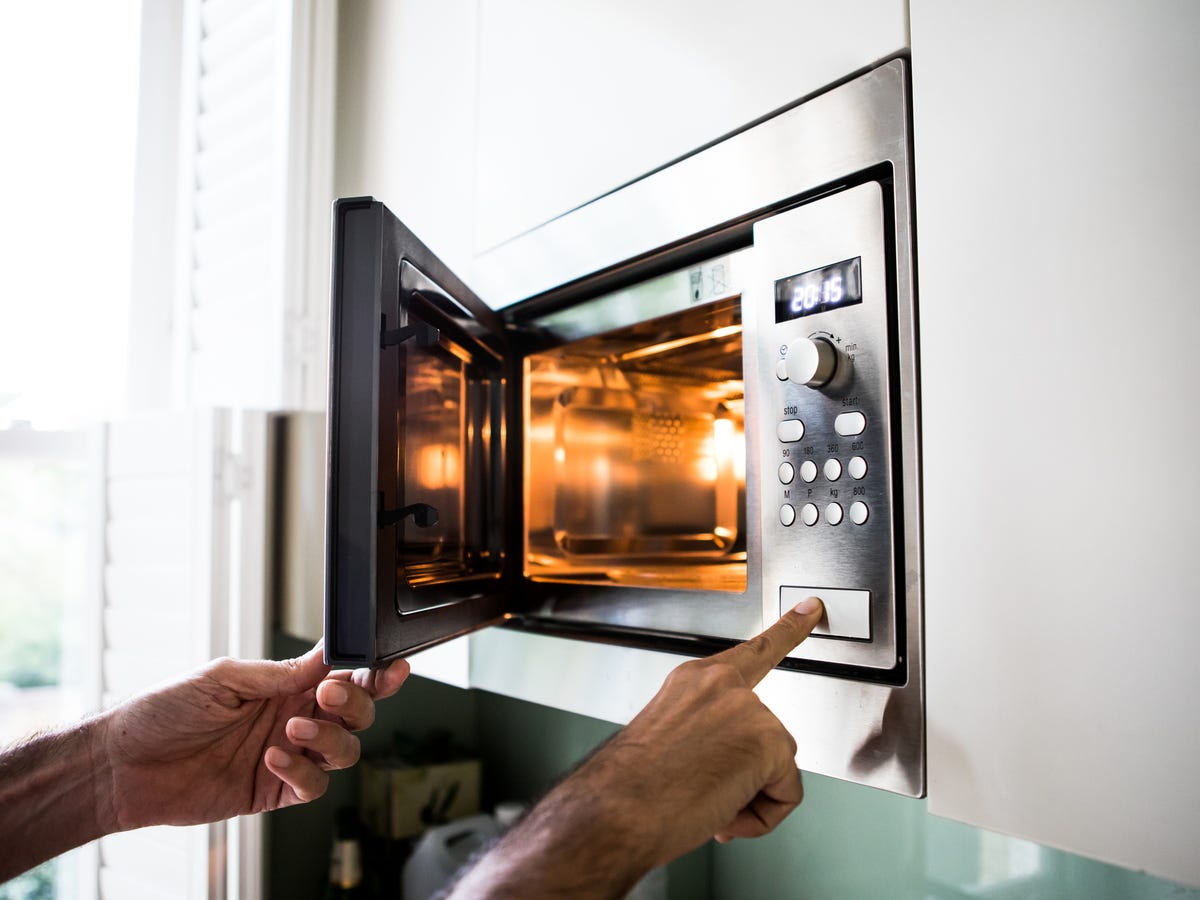 #1 – Panasonic Homechef 4In1 Microwave Oven with Air Fryer. Our Best Pick

Looking for a versatile and efficient all-in-one microwave air fryer combo? Look no further than the Panasonic HomeChef 4-in-1 combo kitchen appliance.
This top-of-the-line appliance can do it all: microwave, broil, air fry, and convection bake – perfect for everything from quick weeknight meals to holiday desserts.
Plus, the Healthy Air Fryer feature produces crispy, brown results without any preheat required – making your favorite fried foods healthier and easier than ever.
The Panasonic HomeChef 4-in-1 will be an excellent addition to your kitchen thanks to its sleek design and easy-to-use controls.
Panasonic HomeChef, a 4-in-1 heat element from Panasonic, offers intelligent and even cooking. The HomeChef uses 1000W of Panasonic's inverter microwave technology to quickly heat, defrost and reheat food.
If you appreciated this, you might also enjoy

Target Air Fryer

Its sleek design is small and takes up little counter space. The large capacity of the microwave oven has a compact footprint. You can also choose to place it on the countertop or make it a built in microwave oven with the optional trim kit.
Benefits & key features
Capacity: 1.2 Cubic Feet
Panasonic has partnered with recipe apps Drop and SideChef to bring you quick, easy and delicious recipes.
It has an interior made of steel, which makes it very easy to clean.
To prevent children from opening it, set the child safety lock and then turn off all beeps when they are asleep.
The stainless steel trim kit and instructional videos will help you achieve a sleek aesthetic.
4 Cooking Methods + 2 Combination Cooking Options
Healthy air heating technology combos heats the outside for crisp, brown foods that are lower in calories.
You can use the oven to roast, bake or toast.
FlashXpress Broiler makes it easy to microwave food.
The inverter microwave can be used to cook, melt and warm food
What we like
You can use the microwave and broiler separately or together.
The oven is so good at heat up coffee, left over food, and broil nachos.
This 4-in-1 air fryer microwave combo is great because it reduces the need for oil/fat, baking has preset menus and makes cooking easier, and safety features like a cooling fan.
This unit is both a microwave ovens and toaster oven combo, looks good, and has cooking times similar to microwaves.
It's worth the investment because it can be used to replace an old microwave as well as add three additional functions.
We don't like
Although the machine was functional, the font size and the lack of backlighting on the buttons did not make it ideal.
The buttons on the microwaves are hard to see, you may need to add an external light.
Panasonic does not have an online tutorial for their machines.
Recommended Microwave Air Fryer Combo Brands

The market for this latest kitchen appliance is soon to boom. Only a few brands make microwave combos for air fryers. Here are a few major brands you can find at Spencer's TV & Appliance.
True to Cafe's refined design, these microwave air fryer combos look and perform to a professional degree. These microwaves are great for multitasking in the kitchen thanks to their air frying capabilities, as well as ventilation and task lighting.
GE Microwave Air Fryer Combos
GE has a large selection of Air Fry microwaves, both in countertop models and those that are more advanced. Models price around $220-$580, making the brand accessible to buyers from low to mid-end budgets.
Samsung Microwave Air Fryer Combos
Samsung is a trendsetter and refers to Air Fry as Slim Fry technology. Samsung microwave oven fryers can be used on countertops or in the over-the-range range, just like GE. These appliances, which have a capacity of 1.1 cubic feet, are not the biggest on the market but they're still bigger than regular microwaves. Models start around $400 and go up to $680.
LG Studio Microwave Air Fryer Combos
LG Studio, their premier appliance line, includes a combo microwave/air fryer. The models we have mentioned are among the most costly, with prices starting at $900. Only two models of the brand are currently available. They showcase LG Studio's innovative aesthetic and cooking functionality for intermediate cooks.
Top Pick Microwave Combos for Air Fryer (Latest Test 2022).

Many people use microwave ovens as a great kitchen appliance. They can be used for reheating food, defrosting frozen foods, cooking some dishes and even baking cakes or cookies!
The best combination of microwave and air fryer combos! It's a perfect way to save time and money. It's possible to cook all your favourite foods with no oil or butter. This makes it healthier for the environment as well.
You will find all the information you need about the top air fryer/microwave combos in 2022, as well as buying tips to help you choose the right one.
Top Pick Microwave Combos for Air Fryer (Latest Test 2022).
#1 – Panasonic HomeChef 4-in-1 Microwave Oven with Air Fryer – Best Overall & Our Top Pick
#2 – Toshiba ML2-EC10SA(BS) – Runner Up & Best Bang For Your Bucks
#3 – Breville BMO870BSS1BUC1 Combi Wave3 in 1 – Quality Assurance & Outstanding Air Fryer Convection Oven, Microwave and Microwave Oven
#4 – Cuisinart AMW-60 3-in-1 Oven Airfryer Microwave Combo – Most Compact Option
#5 – Galanz GTWHG12S1SA10 – 4-in-1 ToastWave
#6 – Galanz GSWWA12S1SA10 3-in-1 SpeedWave – Most Versatile & Quiet
#7 – NuWave Bravo XL 10-in-1 Functions – Excellent Product at Affordable Price
#8 – Galanz GLOMJB17S2ASWZ — Best Over The Range Microwave Ovens, Air Fryer & Steam Cooking
Air Fryer Microwaves: Benefits
Disadvantage/ downfall
Panasonic
Toshiba
Galanz
Breville Combi Wave
Power level and capacity
Material and Design
Functionality
Questions
Final Verdect
Best Multifunctional Microwave Air Fryer Combo – Toshiba 7-In-1 Countertop Microwave Oven Air Fryer Combo

This Toshiba 7-in-1 microwave air fryer looks like it can be used to cook almost anything thanks to its vast array of settings.
It also has ten power levels that you can change depending on what you're making. Some foods may need to be prepared at lower temperatures or power than others.
Read more: Best espresso machine under 500
It should, in essence, be capable of figuring out what you are cooking.
And last but not least, the appliance comes with its very own original cookbook so you can pick out recipes to make when you're in need of some inspiration.
All in all, we'd say this is a great all-rounder given what appears to be amazing versatility and the sheer number of settings it has to offer.
Cuisinart, Black Amw-60 3-In-1 Microwave Air Fryer Oven

This Cuisinart Black 3-in-1 Microwave AirFryer is a great option for anyone who wants the best of both a microwave and an oven.
This 3-in-1, 1500-Watt AirFry/Oven is equipped with a 700Watt Microwave and 11 power levels. It also has an auto-cook and defrost function.
Microwave: With 11 power levels, auto cook, and defrost.
Airfryer: Airfryer technology uses significantly less oil to bring optimal nutrition and superior flavor to your favorite foods. You don't need to know anything about frying your favorite fried foods, such as french fries or chicken wings.
The Key Features
Cuisinart Black Oven Microwave/Air Fryer Combo AMW-60 is a 3-in-1 Oven/Oven/Air Fryer that can be used as a microwave/air fryer or oven. It has 11 power levels (0-10), Auto-Cook, Defrost by Time and Weight, and Convection Oven with an engineered heater/fan combination for best results.
The oven has a child-lock option, an oven light to view your progress, and preset options.
Included: A rotating glass tray, an airfry basket and a bake/drippan
Model Name: Cuisinart AMW-60 3-in-1
Material: Stainless Steel
Dimensions: L x WxH x H: 14.4×17.9×13.8inches
Item Weight: 25 Pounds
Wattage: 1500W AirFry/Oven, 700W Microwave
Capacity: 0.6 cu.ft
Pros:
3-YEAR WARRANTY
This product is BPA free
It is easy to maintain.
Cons:
Buttons may seem complicated to push to some people with low vision. The buttons are black so they can be difficult to see at night and on mornings that are dark.
The LED display is too bright during operation
The appliance is not so potent (only 700W)