Cosori Air Fryer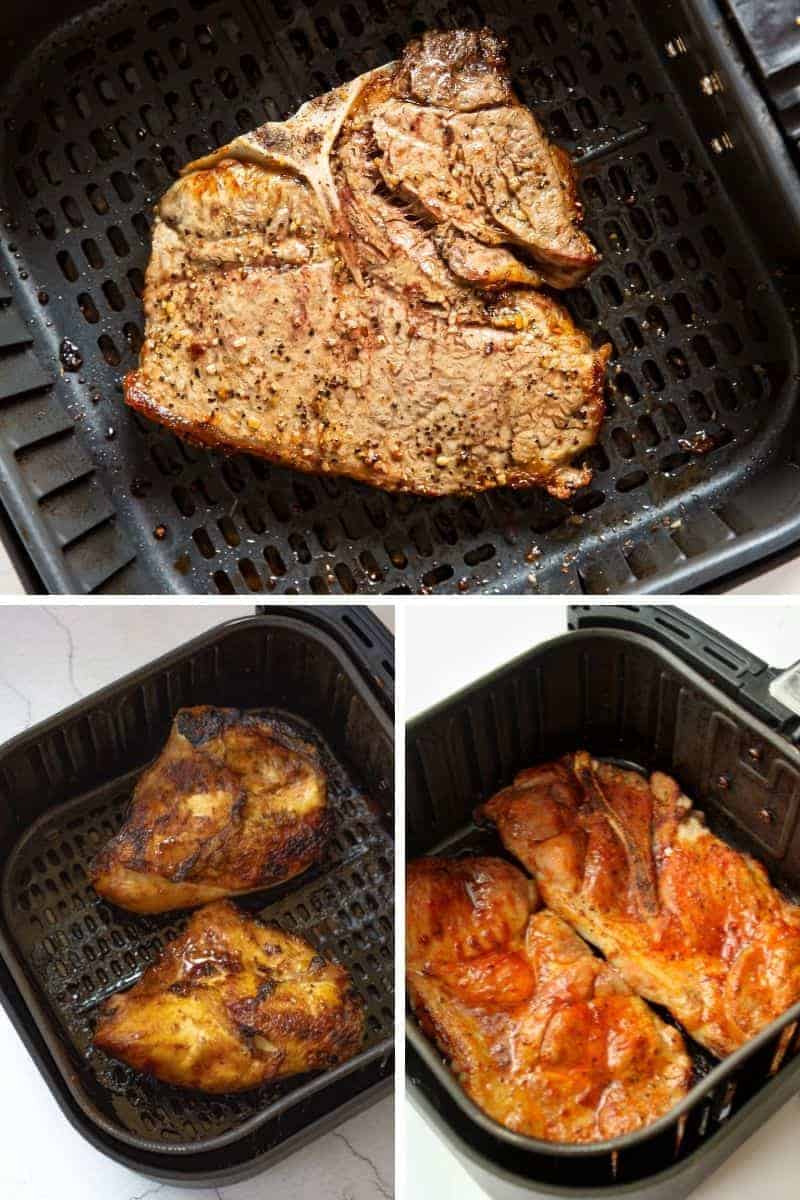 Cosori Air Fryer Recipes – Main Dish

Air Fryer Pork Chops: Make perfect Air Fryer Baked Pork Chops to serve with dinner. These Air Fryer Pork Chops are perfectly seasoned, lightly breaded, and come out crispy and delicious in under 15 minutes.
Air Fryer Orange Chicken- Air Fryer Orange Chicken are tangy and sweet. They're the perfect Chinese takeout recipe. The air fryer makes cooking a delicious Orange Chicken meal easy!
Air Fryer Chicken Fried Steak – Air Fryer Chicken Fried Steak with a creamy, peppery, country gravy is a traditional Southern dinner, made healthier and with less mess using your favorite kitchen appliance.
Air Fryer Chicken Tenders (unbreaded) – Air Fryer Chicken Tenders (Unbreaded) is the best and easiest way to cook chicken in the air fryer. These unbreaded chicken tenders in the air fryer are perfectly seasoned with herbs and spices and cook in the air fryer in just 10 minutes. Dinner has never been so good!
Air Fryer Salmon Patties – Delicious Air Fryer Salmon Patties are ready in just a few minutes! Crispy on the outside and packed with salmon and the perfect seasonings, you'll love this recipe for simple dinners or lunches.
Air Fryer Cube Steak – Make this savory marinated cube steak in your air fryer in a flash! How to transform a cheap cut of beef into delicious meals.
Air Fryer Meatloaf – Air Fryer Meatloaf is the perfect combination of flavors! Savory spices and a sweet glaze make for a meatloaf recipe that's done in less than 40 minutes!
Air Fryer Chicken Breast – Air Fryer Chicken Breast is the fastest way to prepare incredible, juicy chicken breasts! This delicious chicken will be ready in 20 minutes with your Air Fryer.
Air Fryer Hamburgers – Next time you're craving a restaurant-style hamburger, let your air fryer do the work! Air Fryer Hamburgers – In just 10 minutes, you can have delicious and flavorful Air Fryer Hamburgers right in your own kitchen.
Air Fryer Pork Loin – This Air Fryer Pork Loin Roast is deliciously seasoned, cooked to perfection, and fast and easy because we're cooking it in our air fryer.
Air Fryer Steak Bites: Air Fryer Steak Bites is a quick and easy way to prepare steak in small bite-sized portions.
Air Fryer Turkey Meatballs: These meatballs can be made in just 20 minutes using the Air Fryer. They are healthier than beef meatballs and packed with great flavor.
If you were into this, you might also like

starbucks heavy cream

Air Fryer Mushrooms – These Air Fryer Mushrooms are a great meatless Monday dish with tons of flavor and protein! You can slice and prepare a main meal in 20 minutes or less!
Air Fryer Tilapia – Air Fryer Tilapia is so fast and flaky! For a quick and easy fish meal, coat this delicious white fish with seasoned breadcrumbs.
Air Fryer Chicken Drumsticks – Air Fryer Chicken Drumsticks are a quick budget dinner the family will love! You can make crispy fried chicken without oil by using an air fryer.
Air Fryer Tostadas – These are perfect homemade flat taco shells with or without meat. These open-faced tacos are super crispy and ready in just 6 minutes each!
Zucchini Boats – Air Fryer Zucchini Boats are a quick and easy weeknight meal with tons of fresh flavor! Also great for vegetarians who are on a keto diet or have low-carb preferences.
Air Fryer Fried Rice – This comforting Air Fryer Fried Rice is a perfect quick dish you can make with whatever proteins and veggies you have around the house!
Tacos with Air Fryer Muskets – Combine Meatless Monday with Taco Tuesday and make these tasty and simple Air Fryer Molecular Tacos. Make dinner in a flash with these juicy portobello mushrooms and your favorite toppings!
Easy Air Fryer Enchiladas: These easy-to-make Air Fryer Enchiladas take less than 30 minutes and pack a lot of flavor! Add your preferred cheese or enchilada sauce to top it all!
Air Fryer Turkey – This recipe for Air Fryer Turkey Breast is an excellent healthy main course dish to serve on a weeknight. Your air fryer will do all the hard work, and you'll reap the benefits!
Crispy Air Fryer Chicken Breasts This easy 30-minute meal can be made with pantry staples and is a family favourite.
Air Fryer Tofu – Crispy on the outside and fluffy on the inside, this three-ingredient Air Fryer Tofu is melt-in-your-mouth delicious!
You love to cook seafood at home. For the best flavorful and tender shrimp, this air fryer recipe only takes 10 minutes.
Make Air Fryer Chicken Tenders from scratch – These chicken tenders go beyond being a simple appetizer on a restaurant's menu. Make juicy and tender sweet & savory air fryer chicken tenders in only 30 minutes with this easy recipe!
Air Fryer Steak – What's more satisfying than a perfectly cooked steak made right in your own kitchen? You'll go crazy for this easy 10 minute air fryer steak recipe!
Cosori Air Fryer Recipes – Breakfast

Air Fryer Turkey Bacon – Air fryer turkey bacon is so easy to make, you'll be amazed. In less than 10 minutes, turkey bacon is crispy and perfectly cooked in an air fryer.
Air Fryer Biscuits (canned) – If you love buttermilk biscuits, you are going to love Air Fryer Biscuits. This delicious can and refrigerated biscuit is golden brown.
Frozen Sausage Patties for the Air Fryer – These frozen sausage patties can be made quickly in an air fryer. These sausage patties can be used in an air fryer to make a delicious, hearty breakfast.
Air Fryer Breakfast Casserole – Air Fryer Breakfast Casserole made with hard boiled eggs and hash brown potatoes is hearty, comforting, and easy to make.
Crispy Air Fryer Breakfast Potatoes: Nothing is better than crispy, air-fried breakfast potatoes. Learn how to make this simple and healthy breakfast side in under 25 minutes.
The Air Fryer Frozen Hash Brown Patties – These Air Fryer Hash Brown Patties can be frozen and ready to go in under 20 minutes. These super crispy breakfast potatoes are perfect for a morning on-the-go and cook while you get ready for the day.
Air Fryer Tater Tot and Egg Cups – Tater Tot and Egg Cups in the Air Fryer couldn't be easier! Make a quick protein-packed on-the-go breakfast with melted cheese and crunchy tater tots under fluffy scrambled eggs.
Air Fryer Monkey Bread: This is the ultimate sweet and easy breakfast option! It's crunchy on the outside, soft inside and the perfect way to begin the weekend.
Air Fryer Pumpkin Chocolate Chip Muffins – These air fryer pumpkin chocolate chip muffins are a light, sweet muffin, brimming with pumpkin spice flavor! These air fryer muffins work perfectly for breakfast, snacks or dessert!
Air Fryer Cinnamon Rolls: This quick, easy and delicious breakfast is sure to please the whole family! Just pop the pre-made cinnamon rolls into the air fryer and within minutes you'll have a sweet treat!
Air Fryer Donut Holes – Air Fryer Donuts are bite-sized balls of dough and sugar with less fat than traditional donuts! They are irresistible thanks to their cinnamon sugar coating.
Air Fryer Bacon: This is an easy way to make crispy bacon in a flash! You'll never cook bacon the same way in an air fryer again.
Cosori Air Fryer Recipes – Appetizers

Air Fryer Meatballs – Air Fryer Meatballs are easy to make and super tasty! They are great as an appetizer, main course or dessert.
Homemade Air Fryer Hush Puppies: These soft and pillowy homemade air-fried corn fritters are filled with the best savory seasonings. They are delicious as a side dish and can be made gluten-free, with low fat.
Air Fryer Garlic Pizza Knots – For a fun twist on pizza, try making Air Fryer Garlic Knot Pizza. Refrigerated biscuits are stuffed with pizza toppings and baked together with extra cheese for a kid friendly, crowd pleasing dish.
This simple recipe for air fryer ravioli will transform frozen ravioli into art. This ravioli is crispy and delicious with a side dish of marinara sauce.
Air Fryer Quesadilla: You will love the ease of making an Air Fryer Quesadilla, just like at your favourite Mexican restaurant. Crispy on the outside and cheesy on the inside, you can't go wrong!
Pumpkin seeds from the Air Fryer – The delicious, crunchy snacks that your whole family will love are Air Fryer Pumpkin seeds. After you carve your pumpkins toss the seeds into the air fryer for a crisp snack!
Air Fryer Jalapeno Poppers: These delicious snack options are quick and easy to make. This will be your new favorite snack!
Pickles from the Air Fryer – There is nothing more delicious than hot and crispy fried pickles. Air Fryer Pickles are easy to make and require just 3 ingredients. They take only 10 minutes to prepare.
DO YOU HAVE QUESTIONS OR ANSWERS ABOUT COSORI'S AIR FRYER If you have any questions, please leave a comment below and we will be happy to help!
Air fryer
Cosori Cs158-Af Smart Wifi Air Fryer 5

One of our top picks in this Cosori air fryer review is COSORI CS158-AF Smart WiFi Air Fryer. The Cosori air fryer toaster oven is awarded the best design title of the Red Dot Award. You don't have to bend your back while you use the screen. It also features easy-to-use pre-programmed settings and a compact footprint for your kitchen counter.
Provide healthy meals
The Cosori 5.8 qt air fryer uses high-speed heat circulations to heat food, which reduces more than 85% oil use. The food is just as delicious and crispy as deep-fried foods. It is a perfect, healthy gift for your loved ones.
Capacity large
The Cosori air-fryer can hold a 6 pound chicken at 5.8 quarts Its square basket allows more space for the food while a circular basket doesn't. This XL Cosori 5 quart Cosori oven toaster oven makes a great choice if you are looking to prepare food for large families (up to five people), or smaller gatherings.
Many preset options
This oven, like the other models reviewed in our Cosori Air Fryer Review, comes with many cooking presets. You can cook everything from seafood, steaks, to baked goods in the Cosori Air Fryer. There's also other options like toasting and baking.
Control via Alexa and Google Assistant
You can control the device via Alexa or Google Assistant, allowing distance use if you are busy cooking other dishes. An app for your smartphone lets you set cooking times ahead of time.
It is easy to keep clean
The purchase includes a removable and easy-to clean drip tray. It catches any oil that drops during the cooking, which helps to save time and energy cleaning the basket.
If you appreciated this, you might also enjoy

bed bug bite disinfecting sheets and bedding

The oven's features are always functional, and food emerges with a crispy texture and delicious taste. The nonstick food basket, which is safe for dishwasher use and is supported by a removable drip tray makes cleaning easy.
Cosori Air Fryer Recipes – Vegetables

Air Fryer Cabbage – Air Fryer Cabbage Steaks are an amazing vegetarian main or side dish. The air fryer cooks them beautifully with very little oil.
Crispy Air Fryer Eggplant – Tender slices of eggplant, air fried to crispy perfection! Crispy Air Fryer Eggplant is sure to be a hit on any dinner table once you've mastered the technique.
Balsamic air-fried mushrooms – In just minutes, the mushroom caps are perfectly cooked in a balsamic vinaigrette mixture. Balsamic Air Fryer mushrooms will be your go-to side dish from now on!
Air Fryer Roasted Potatoes – You might be wondering how to cook air fryer potatoes. Air fryer potatoes are quick and easy to cook.
Air Fryer Kale Chips: These Air Fryer Kale Chips can be made in a matter of minutes and your family will not even know that you cooked them! Only four ingredients, 10 minutes and you'll have crispy and healthy "fried" vegetables!
Air Fryer Shishito Peppers – Air Fryer Shishito Peppers are a quick and delicious air fryer recipe. The perfect appetizer, these blistered peppers make a great side dish. This shishito pepper recipe will make you fall in love.
Cosori Air Fryer Recipes – Desserts

Air Fryer Banana Chips – Air Fryer Banana Chips are a healthy, sweet and salty snack that come together quickly and easily in your air fryer with just three ingredients.
Air Fryer Plantains – Sweet, ripe, plantains cook up quickly and easily in the air fryer to be crispy on the outside, tender on the inside, and delicious as a snack or side dish.
Air Fryer Gingerbread Bites: These are soft, fluffy crescent rolls that have been filled with cream cheese and topped off with holiday seasonings. Perfect for a Christmas dessert or a quick vegetarian snack — even a breakfast treat!
Air Fryer Spiced Apples: Air Fryer Spiced Apples will be a hit with the whole family. Cinnamon, raisins, maple syrup and pecans come together to make this mouthwatering dessert.
Air Fryer Apple Crisp – This simple yet delicious Air Fryer Apple Crisp is the perfect holiday dessert! It's great for any occasion, thanks to the crunchy oat topping with sweetened apple filling.
If you liked this, you might also be interested in

walmart policy on mismarked items

Air Fryer Sweet Apples: These delicious, healthier Air Fryer Sweet Apples can be made in under 20 minutes. The perfect gluten and dairy free dessert!
Air Fryer Cupcakes – Air Fryer Cupcakes will be a hit with your family. It's easy to make cupcakes with an air fryer. Just mix the batter and air fry!