Breville Air Fryer

How to Use the Breville Smart Oven and Air Fryer

The Breville Smart Oven Air Fryer is controlled with three different knobs: one for function, one for time, and one for temperature, along with buttons to start/cancel, adjust convection speed (select no convection, convection or super convection! You can also cook frozen food. These knobs move smoothly, and each setting change is shown on the LCD screen, which is a great upgrade for someone who is used to an air fryer with manual knobs and no screen. The LCD screen will show you exactly the temperature, time and setting that you are using. There's also a "preheating" label on the screen as well as a backlight that shines either red or blue, depending on the status of the cooking cycle.
You might be skeptical and wondering if this expensive, bulky oven is actually going to replace the other small appliances in your kitchen. The answer to your question is a resounding yes after testing. You will be tempted to throw out your old ovens, conventional toaster ovens, and toaster ovens. It was clear from the toast and bagel settings that perfect and evenly heated bread were produced.
The warm setting will beat your microwave out at any head-to-head competition, too. While it might not be able to heat up a plate of pasta in a minute, you won't be left with soggy, watery food. In fact, some of the things we reheated came out better than they were the day they were originally cooked.
Baking In The Breville Smart Oven Air Fryer

During tests, the Breville Smart Oven Air Fryer baked a cake nearly 20 minutes faster than a conventional oven making the same cake, and it created a beautiful caramelized sugar crust on top of the cake. It's not a coincidence that a convection oven creates a drying baking environment and allows sugars to caramelize faster. That golden crust is a testament to how well the convection settings work in this oven.
The Smart Oven Air Fryer can also be used to make great baked goods. Particularly the roast setting is great for producing tender and moist meats with crisp outer skin. A piece of salmon roasted for 15 minutes with the normal convection setting turned on came out similar to restaurant-quality salmon I've had in the past. It was buttery and flaky — and, of course, it had that crunchy, golden skin.
Superb Convection

On the right side of the oven is a massive fan which offers two different convection settings, regular convection and "Super Convection." The latter makes the oven operate a little louder than usual, with a whirring noise that echoed throughout the kitchen as I heated the oven for the frozen french fries to come. "Air frying" is the most clever marketing term since "blast processing." These devices are little more than small ovens with big fans. Although air-frying doesn't taste nearly as good as deep-fat fried food, I still enjoy it at least once a week. It's easy, it's quick, and when done right, incredibly satisfying. Breville Joule Oven Air-Fryer Pro comes with a fryer basket, which is a must for any device with "air fryer" in its name. These baskets allow for hot air to come at food from all sides, which is essential if crunchy food is your aim. The basket was placed in the middle of an oven at 480°F. I laid out the frozen fries one by one.
Countertop air fryers tend to be enclosed so that you cannot watch the food cook or check its progress towards becoming delicious. But that's not the case with the Joule Oven. It was amazing to watch french fries being cooked through the large glass window of the Joule Oven. Super Convection fan caused the tiny amount of oil on the fries to bubble up like they were being fried. After just eight minutes, and some quick seasoning of the fry batter, I was able to eat my best air-fried potatoes. Later on that evening, I tried to see if other frozen favorites like mozzarella sticks and chicky nuggies would render similarly tasty results. Luckily, they did. "Super Convection" is no joke. Because the air circulates quicker with "Super Convection" I can't imagine never not using it whenever a convection setting is called for in a recipe, especially in air frying.
Combo Air Fryer/Toaster Ovens: The best

As mentioned, this is an all-in-one air fryer and regular toaster oven, so if you'd like to make crispy sesame-coconut chicken tenders and cook a whole chicken in the same appliance, this one's for you. And if you like sales, you can get this one for 20% off during Black Friday.
The control panel has a variety of presets for specific foods like frozen pizza, bagels, and cookies, or you can choose cook modes like reheat, broil, bake, or roast. Air fry activates "super convection", which circulates air rapidly to heat sweet potato wedges. Breville's large cooking area and easy-to-use front loading make it ideal for larger items. And the window means you can watch food as it cooks (fun!) so you don't have to open the oven to check that dinner isn't burning–letting precious heat out.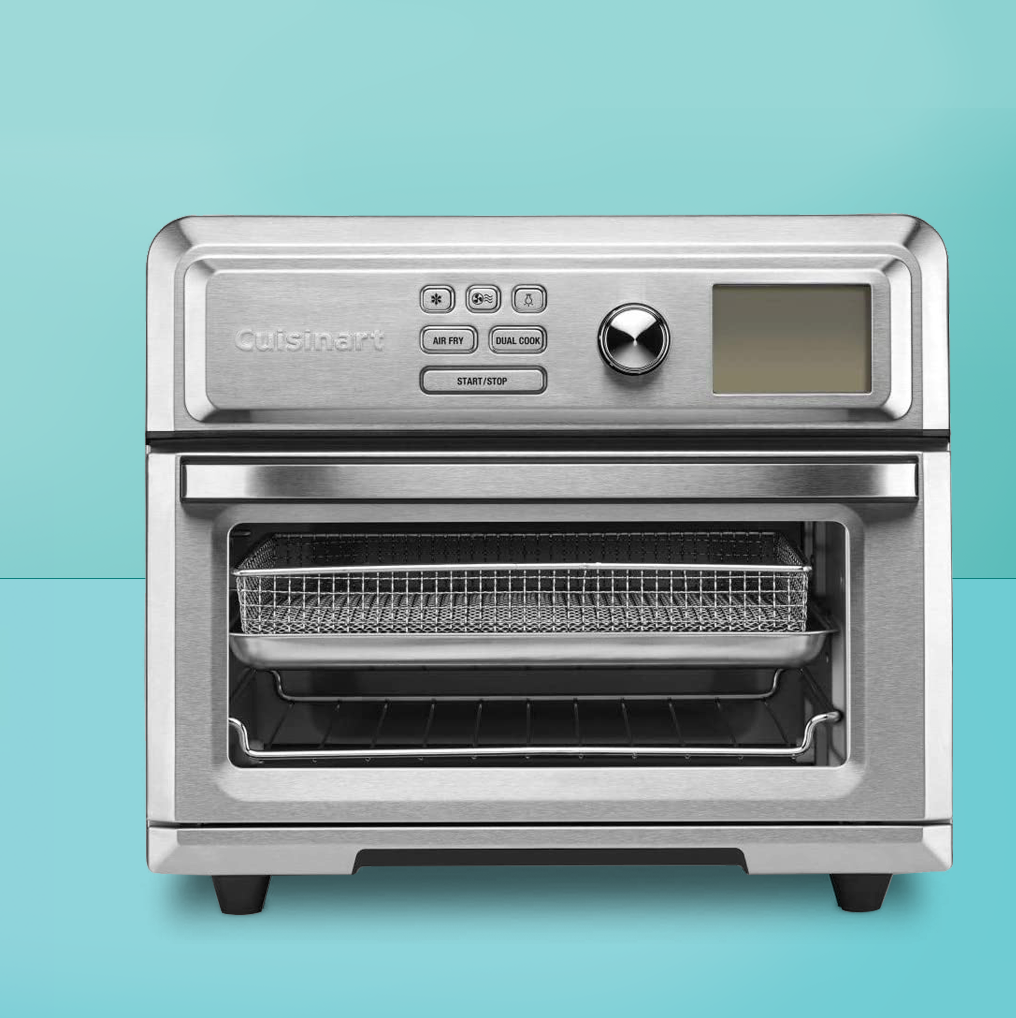 A "Smart" Oven

My family got a Breville Smart Oven Air Fryer Pro, or equivalent model, about three years ago and almost immediately turned it into our primary method for cooking meals. This oven preheats quicker and offers more functions than the traditional Breville model. It is a model I am very familiar with, and I have no plans to change it. For years, it has been working flawlessly.
If you found this entertaining, you might enjoy

Farberware Air Fryer

There are things I would add to that oven, though: primarily internet-connected smarts that allow me to control it from my phone or maybe even my Apple Watch. Joule Oven Air Fryer Pro, which is basically the same device I have on my counter now has Bluetooth and Wi Fi connectivity. And yet, for the $100 premium, it doesn't let me control it in the ways I want.
You can't use the oven on the counter to heat it up, set a temperature, or turn it on one of 13 functions. What can you do? Breville's mobile app offers curated recipes as well as the ability to search and save more recipes. (Are you seeing a theme?) In the top right corner, there's an icon to show that your oven is connected and ready to cook. You can turn it off to stop cooking, but that's all.
If you were into this, you might also like

Microwave Air Fryer Combo

It's amazing that the oven can use the recipe you choose to make your meal. My first attempt was to make air-fried apple chips. It helped me tremendously. The problem is that this connected product is capable of doing so many more useful things and the only reason they are not possible in the app is that the company hasn't allowed it.
To give credit where it's due, the mobile app itself is well done. The app is well designed and intuitive. Recipes with video clips are easy to follow and genuinely help in the meal prep process too.
What Is An Air Fryer Anyway?

Let's get this out of the way: Air-frying is a rebrand of the stodgy old term "convection." It's essentially the same thing, but "air frying" just sounds so much lighter, doesn't it? An air fryer is a mini countertop convection oven, which means it uses a fan to help circulate hot air around your food so that it cooks more evenly and efficiently than in a normal oven. It preheats in minutes and makes weeknight cooking convenient, mostly hands-off, and so, so crispy.
Tech And Power

The Breville Joule Oven Air-Fryer Pro comes with thirteen different cooking modes, it also works in tandem with a companion app, Joule Oven. Like the Joule Sous Vide app, it's filled with guided recipes for everything from buttery croissant-style crescent rolls to air-fried buffalo cauliflower wings. Each recipe includes a detailed parts list, prep and cooking time, difficulty, and even serving size. Step-by-step instructions even come with detailed video components so there's little to no guesswork. When making a recipe, the oven will even help begin the preheating process, an often overlooked step by many home cooks (including myself). Certain recipes take advantage of Joule Autopilot, which cycles any given recipe through different temperatures and modes totally hands off, so you don't have to futz with the oven until the cooking's done. The oven will notify you by phone when food has been cooked. This allows you to quickly grab your delicious creations. It works just like other countertop ovens from the Breville range. The Element IQ heat distribution system distributes heat throughout the oven. This eliminates cold spots and cooks food more precisely than a traditional oven.
It's simple and straightforward to use

Considering the fact that this oven has 13 functions, it's surprisingly easy to use. You can toggle between the different functions easily using the digital panel. It's easy to see which function you have chosen. Independently adjust temperature and time, no matter what pre-set was chosen. The light inside the oven is easy to see, with a convenient indicator that illuminates when the door opens. To flip and remove food, the racks extend automatically. That means there's no need to stick your hand and arm into the hot oven.
However, I did notice that this oven is a little more difficult to clean than some of the others–and that makes sense, since it involves more than a nonstick-coated basket. The rack can let food drip off, making cleaning up the interior of the oven difficult. When air-frying greasy or juicy foods, such as chicken wings, be careful. We noticed that moisture could drip onto the oven's heating element and cause smoking. For best results, make sure there is a baking pan or sheet tray underneath the air fry basket. This will ensure that any drip juices do not reach the heating element, but the tray.
An Automated Experience For Easy Dinners

Perhaps what sets this oven apart the most is its ability to create a thoroughly automated cooking experience in addition to crisping up snacks and leftovers. Thanks to the Joule app, you can access recipes and chef-approved tips and tricks while cooking. It's also compatible with voice assistants, so the oven can be paired with an Alexa device or Google phone. You can set your oven to autopilot for easy and hands-free cooking. This allows it to seamlessly cycle through various temperatures, times, and functions as needed.
It is simple to use the app. Simply download it and pair it with your oven via Bluetooth. After it is set up you will be able to browse through many recipes, such as cauliflower shawarma and spicy tahini. Once you have chosen a recipe to prepare, simply follow the instructions and then hit the autopilot button. Though you'll need to manually press start on the oven, it will then cycle through different temperatures, functions, and cook times completely independently. This means that you don't need to press a button to go from preheating, cooking, or broiling.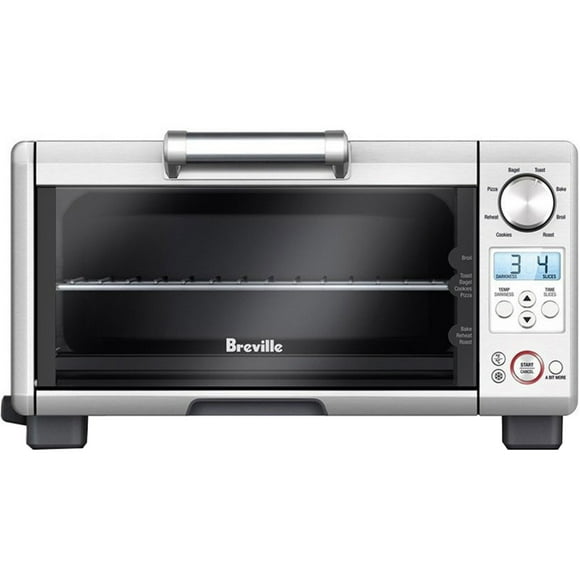 A Few Other Fabulous Features

I've used a handful of other countertop ovens and as flashy as they are, there are some things that are often overlooked. It doesn't matter how clever an appliance is, it won't be worth the effort to keep it clean. When I make chicken thighs or bacon, I allow the oven to cool completely before wiping it with a damp towel containing all-purpose cleaner. The non-stick interior is a godsend, and there's a good chance I won't ever have to break out the Easy Off to keep the Breville Joule Oven Air-Fryer Pro pristine. The door, unlike similar-sized ovens is easy to clean. It was a joy to watch the food cook perfectly. The oven's bright light is a great way to take photos of your food, even if you don't want the people hating it.
If this was to your liking, you might also be interested in

Small Air Fryer

Joule ovens are more expensive than other models in the same class. You will need to buy additional accessories to make full use of their features. Breville Joule Oven Air-Fryer Pro comes with two oven racks, an air-fryer basket, a non-stick pizza pan, and even a broiler pan complete with rack, everything you need to put this machine through the ringer. And because the inside of the oven is so spacious, it can fit oven-ready cookware you already own. Even with the lid, my Staub enamel dutch-oven of four-quarts fits perfectly.
First Impressions

Breville Joule Oven Air-Fryer Pro boasts many capabilities, but I figured I'd gauge the simple stuff before I dove deep into the fancier features. Once the oven had cooled completely, I measured the time it took for the temperature to rise from zero to 48 degrees Fahrenheit. This is the maximum the oven can reach. Using the "Bake" function, the oven took almost exactly five minutes to preheat. Not too shabby. But the oven sports multiple functions, so it's only fair to try out another one. Next came "Air Fry", complete with the convection setting. Once again, it took five minutes to preheat. This oven is consistent and quick when it comes heating up, at the very least.